"The best WWOOFing we have ever done. Debbie and Mark are extremely nice people. Within 5 minutes we felt at home. Debbie is a wealth of knowledge about permaculture. Their garden is amazing. They are very happy to show us their beautiful area. The national parks next door are incredible."
Vincent & Mathilde Mahé 10-10-2022
---
"My first WWOOFing experience was at Carmyllie, and I absolutely loved it!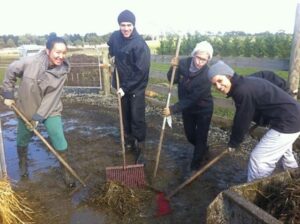 I learned a lot about permaculture, farming, but also history and culture. Graham taught me a lot about cattle, biochar, and various other subjects. And I have to say, Kristina's cooking is really good, and I was pleased to help in the kitchen and to cook with her. The place is amazing, a big house in the forest where you'll have the occasion to see kangaroos and a lot of beautiful birds! I enjoyed those 2 weeks of stay, Kristina and Graham are great hosts!"
Hugo Vanrobaeys 8-10-2022
---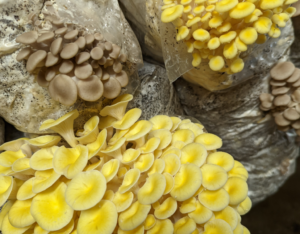 "What a fantastic experience!!! The entire family is lovely and welcoming and really happy to share their knowledge and their home, which is located in a beautiful part of Far North Queensland! We felt like a part of the family by the time we left 🙂 We stayed for 2 weeks and could definitely have stayed longer if plans had permitted. We learnt so much and were involved in all aspects of the mushroom production. The work hours were really fair with weekends off which gave us time to explore the surrounding areas. We enjoyed spending time with all of the animals and got to witness the birth of baby goats which was great! We even had a memorable dance party with the kids the one evening! If you want to get a better idea of the work involved in producing gourmet mushrooms whilst having a great time, we would definitely recommend spending some time at Golden Oak."
Caitlin Dyan Moore& Geoff Kotthoff 6-10-2022
---
"This was my first WWOOFing experience and I loved everything of it. It was fantastic and I felt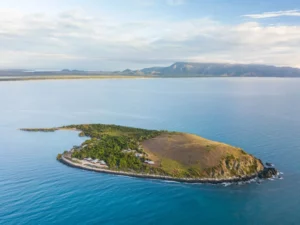 really lucky! Camp Island is a great place. It's a small island, but it's really nice there. You can swim, snorkel, go fishing, just wander around and relax. I had a very nice and clean room all for myself. Food was very good. Everyone took very good care of me right from the beginning. Lizzie asked me before I arrived what food I liked. On the island Lizzie and Pete are the managers. They treated my like family all the time. Thank you all very much for your hospitality. The work was in general doing whatever needs to be done: tasks like cleaning the pool and the windows of the rooms or other stuff. I had a variety of tasks to choose from. I liked that. I could I would have loved to stayed longer."
Simon Kutscher 3-10-2022
---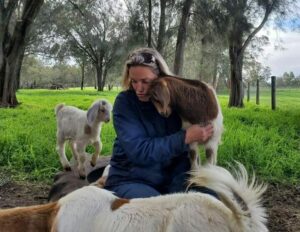 "Nina is the best 🙂 check her out! I originally planned to stay with another farm that canceled on me, so I was very happy when I contacted Nina and she said I could come on short notice. She picked me up from the airport and dropped me of as well. On her property I mainly helped her out after the floodings (cleaning fences, putting wood on burning pile) and in the house (cleaning kitchen). I totally enjoyed staying with her, her daughter, her two dogs, cats and horses! And the goats were lovely as well – they follow you around and want to be cuddled! But you get used to hair everywhere 😀 ! Nina and I even did some Salsa dancing and I was able to get to know her work as a marriage celebrant while visiting 2 weddings and the locations. We had good conversations and both of them did everything to make my stay there as special as possible! I would totally recommend them to everyone ☺️! Thanks so much 🙂"
Sarah 2-10-2022
---
Expand your knowledge and make new friends Join WWOOF today!