WWOOF Videos and FAQ's
Update your Volunteer and Host Farm Profile & Location!
How-To Videos and FAQ's.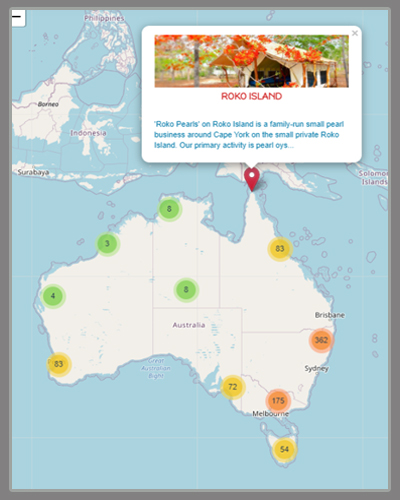 Map Searching
You want to show up on the Map Search page as this is how Hosts and WWOOFers find each other. Once your location is set, your Map is part of your WWOOF Profile.
WWOOFers can search for nearby Hosts once their location is set. It is also helpful for Hosts if WWOOFers update their location as they travel, as Hosts can see who is nearby and invite WWOOFers to their property.
Hosts should set their location so WWOOFers find them on a map search.
Your Profile will appear on the Map Search page once you have set your Map Location. 
NOTICE BOARD
Post a Notice for WWOOFers and Host Farms WANTED!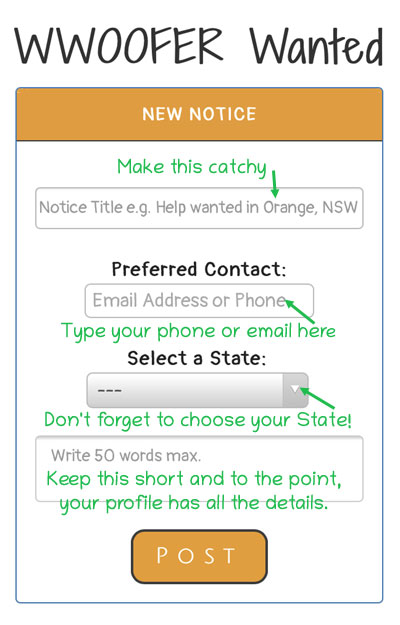 Post an advert
The member only Notice Board is where you can post a Notice for finding a WWOOFer Volunteer or a Host Farm.
1. Title of your Notice, brief but informative
2. Enter your email or phone or leave blank
3. Select which State you are interested in
4. Type your notice, include useful info but NO contact info
5. Members can contact you via Messaging or your Preferred contact.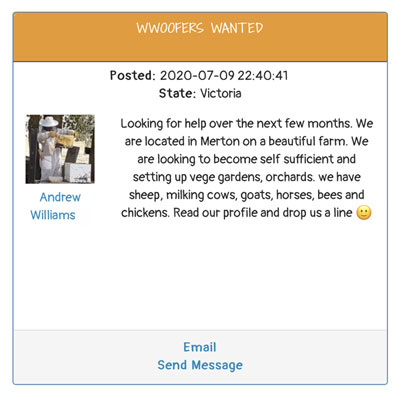 INSTANT MESSAGING
Message Host Farms or WWOOFers via Instant Messaging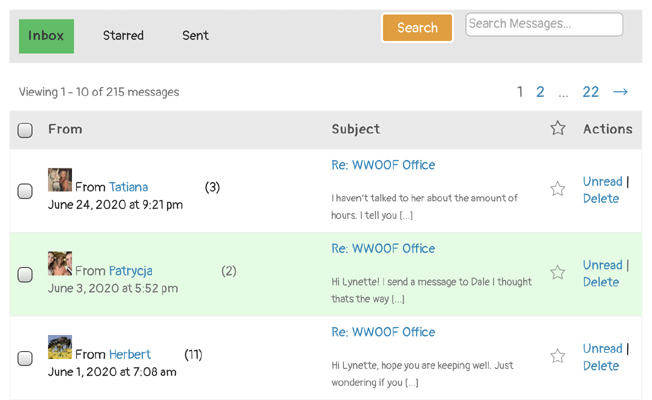 Easily send a Message to another Member for quick communication.
Find Profile of your choice via search or NoticeBoard

Click Private Message or Send Message, write and send your message

They will get an email so they know you have messaged them.

To see your inbox, go to your Profile, click the View Messages button or select My Messages from the drop down My Profile menu.
 View the Profile of the Member you're chatting with, click on their name.

You will be notified via Email of any messages, with a link to the message

You can reply to the email or click the link to reply from your messages inbox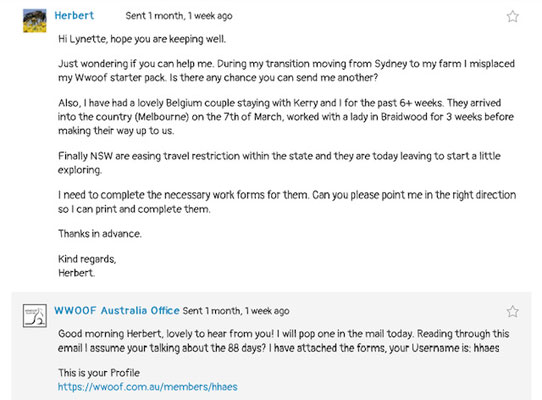 For WWOOFer Volunteers from overseas, Travel Insurance is very important.
You may be visiting Host Farms that may be quite remote, a long way from the nearest Hospital or major town/city. Medical transport can be very expensive, as can medical treatment if you have no insurance.
Get a free quote on Travel Insurance that will cover you while you're "On the Farm" Here.
For details of the Travel Insurance Policy, see the Product Disclosure Statement
VIDEO TUTORIALS
Update your Profile and Location, set your Calendar, create a Gallery and more …
Update your Profile
This tutorial will show you how to edit and update your own Profile page.
It's very easy, once you know how.
View the other helpful videos below so you know how to make yourself visible to other Members and so you can successfully find the Host Farm or WWOOFer Volunteer you're looking for.
FAQ's and Help
Answers to the most popular questions asked by new Members …
How do I find Hosts & WWOOFers
How do I contact other Members
Visit the Profile page of a Member you wish to make contact with. You can telephone or message them through our website using the Message button on each Profile.
I can't Login
Use the username or email address you registered with and your chosen password. If you have forgotten your user name and email address, please contact the WWOOF Office. You can reset your Password at the Login screen, or, if you have difficulties, please contact the WWOOF Office and we will re-set your password for you.
Update my Profile
Watch the videos or go to your Profile page, then you will notice some links just under your small Profile Picture. They will say: View, Edit, Change Profile Photo etc. Click the Edit link, then you can edit each section of your profile, don't forget to Save each section when you make changes, the save button is at the bottom of the screen. If you are having trouble with your Photo sizing please watch the following 2min video on You Tube youtube.com/watch?v=Xx3VPPELDCg
How to change my Email address or Password
Go to your Profile page, then from the Main Top dropdown Menu you will see a link for Settings. Go to this page and you can update your Email and Password.
How long is my Membership
WWOOF Volunteer memberships are for 2 years. WWOOFer Volunteers can choose from a Single or Dual memberships.
WWOOF Host memberships are for 12 months. There are 3 levels of Host memberships to choose from.
WWOOFers and Hosts will receive email notifications to remind them to renew, 60 days, 30 days and 7 days before memberships expire. Your WWOOF Profile also shows your expiry date and has a renew button so it is simple to renew your membership any time, you do not need to wait until you have an email.
Is it automatic renewal
No, WWOOF Australia will send you email reminders to renew your membership.
You can see your expiry date on your profile and can renew anytime by clicking the Renew Membership button on your profile page, you don't need to wait until we email you.
If you select the same membership level as you are currently on (eg. Singe or Dual WWOOFer or Certified, Non-Certified or Concession Host) renewing will add 2 years to WWOOFer volunteer memberships and 12 months to Host memberships.
PLEASE NOTE: If you change level, renewing will end your previous level and the new level will be 2 years (volunteers) or 12 months (hosts) from the date of payment. Please call us on 0455 023 173 if you need to change levels so we can ensure your membership extension is added on to your new level.
Does WWOOF Screen Members
At WWOOF we do not perform background checks, although we do reserve the right to. WWOOF Australia is a fantastic organisation that has been around for over 40 years. It is the leader in linking volunteers and hosts together, enabling lifetime experiences and education for both parties.
WWOOFers and Hosts can leave Reviews for each other and any Host with Three 5 star reviews and WWOOFers with two 5 star reviews will be Verified by WWOOF making them stand out in searches.  Hosts and WWOOFers can also submit a Police Check to WWOOF to have this added to their Profile.
My Marker is not showing on the Map
If your marker is not showing on the Map Search, this means you have not updated your Location as yet. Simply click the My Profile menu at the top of the page, and select Location. Click Edit Location and enter your address or just drag the marker to your current location on the map. Once your location is set in your profile it will take a couple of hours to appear on the map search. You will then be able to search for nearby Hosts and WWOOFers.
How to leave a Review
WWOOFers and Hosts can leave reviews for each other, on each others Profile Pages. Simply go to the Members Profile page you wish to leave a Review for, scroll down to the bottom of their Profile where it says ADD REVIEW, and select the number of stars (5 stars for a great review) write your review then click Submit. Refresh the page to see your review.
If you have negative feedback, please discuss this with the WWOOF Office before leaving a review. The WWOOF Office will follow up any issues sensitively and in confidence. Most issues can be resolved without the need for negative feedback. In the case of a serious breach of the WWOOF Guidelines a membership may be cancelled, however most cases require a discussion of the issue and a review of procedures to resolve the problem and ensure it does nor occur again.
No abusive reviews will be accepted and your Profile will be disabled immediately if you act carelessly.
What if things don't work out
Upon signing up you agree to our terms and conditions and must adhere to the WWOOF Guidelines. Either party has the right to end the relationship. Always understand that WWOOFers can come from different countries with different cultural ideals so when you start your first contact with the potential WWOOFer as a Host, be sure you have outlined very clearly what you would like the WWOOFer to do during their stay with you.
This applies to WWOOFer Volunteers as well. Make sure you are very clear as to what your Host Farm expects of you.
Sometimes for whatever reason the visit may not work out as you might have expected, sometimes this is due to miscommunication or unreasonable expectations from either party. Communicating your issues respectfully and calmly can often resolve any misunderstandings, but sometimes the best option is to arrange ending the visit early.
Be honest, and respectfully explain if its just not working out and remember, if you're a Host Farm, the WWOOFer might need transport to a train station, bus stop, or need time to find another host.
So if you feel it's not a right fit act on it immediately, you are not required to keep the WWOOFer, or continue your stay at a Host Farm if it is not working out.
WWOOF Australia has a Complaints Procedure which we take very seriously. Any arrangement and agreement made is your responsibility, so ensure you set the arrangement up correctly so the potential WWOOFer or Host Farm has a great understanding of your expectations before you connect.
Our Privacy Policies
We only use your information to connect Hosts and WWOOFers, we never reveal email addresses or your personal information to any third party. We do not sell on your information or use it in any way to target advertising.
We only use your information to enable you to contact hosts and volunteer throughout Australia.
For further information in regards to privacy please check out our Data protection policy.
Our organisation is committed to respecting the privacy of your personal information. It is bound by a set of National Privacy Principles that establish the benchmark for how personal information should be handled.
WWOOF Pty Ltd. has embraced these principles as part of standard operating procedures. This means is that all personal information that enters WWOOF Pty Ltd. is dealt with in a uniform manner and the highest regard is taken for maintaining its security at all times.
If you are concerned our organisation may have handled your personal information inappropriately, please contact our Privacy Officer on 0455 023 173 or by email

WWOOF Australia acknowledges the Traditional owners of the land on which we work. We honour the ongoing cultural & spiritual connections, heritage, customs & beliefs of Aboriginal people & pay respect to Elders past, present and emerging.