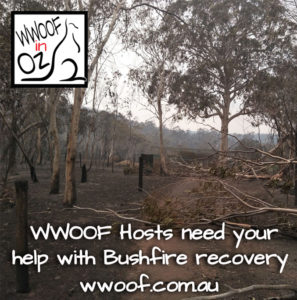 WWOOF Australia has Hosts that can sign off on 2nd Year Visa as long as they have been in BushFire Affected Areas. We also have Hosts that don't fall under this category that can offer safe accommodation during these times. All Hosts are placing Ads on the Notice Board, so don't be shy reach out to them.
Second and Third Working Holiday Visas for volunteers in Bushfire Disaster areas.
The Federal Government announced an initiative allowing volunteers in Bushfire Disaster areas to qualify for second and third Working Holiday visas.
WWOOF has developed a Volunteer Bushfire Relief Form in consultation with Border Force, for WWOOFers to use for their visa extension application, as confirmation of the volunteer work they have done. Border Force have approved regular WWOOFing hours of 4 to 6 hours a day, maximum of 38 hours in any 7 days for this purpose. Hosts need to fill his form in to confirm the type of help they have had and the dates the WWOOFer has stayed with them. Hosts must keep a copy of this form with their completed Guestbook page for each of these WWOOFers.
The main criteria for this volunteer work is that it has something to do with bushfire recovery, this can include all aspects of getting your farm back on track. There are links at the bottom of the WWOOF volunteer form to Border force website and more information
Border force have also added extra types of construction work that will qualify as specified work:
Specified work in disaster affected areas
Construction work can be vital in helping regional disaster zones, such as those affected by flood or bushfire, to rebuild and recover from disaster. Working Holiday visa holders who conduct construction work in eligible regional areas of Australia following disasters can count the work as specified work.
Examples of construction work that qualify as specified work include:
demolition of buildings, trench digging, land clearing and earth moving
residential and non-residential construction or renovation/repair, including of roads, footpaths, bridges, parking lots, fencing, railways, dams, irrigation systems, sewage and storm water drainage systems.
WWOOF Australia is offering a special code to all volunteers who join WWOOF to assist with bushfire recovery, so if you know of anyone who would like to help out, please share the code: BUSHFIREHELP with them, this will automatically give them a 15 month WWOOFer membership at the checkout, on both Single and Dual memberships.
We ask everyone stays up to date with the Coronia Virus https://wwoof.com.au/covid-19-coronavirus-update/