We (Christy and DJ) have the most wonderful piece of paradise in Northern NSW, in the Byron Hinterland. We have owned our little piece of heaven for about 2.5 years. Our working farm has 400 mature, organic avocado trees that had been neglected for several years before we bought the property. We are working hard to give these beauties the care they need to thrive once again.
The certified organic farm is sheltered by native plantings and landscaping giving refuge to incredible native wildlife including kangaroos, wallabies, sugar gliders, koalas, bandicoots, echidnas and all sorts of birdlife. Our organic approach is focused on soil health. We are constantly learning and trying new ways to increase the biodiversity in our soil including compost applications, mulch and biological inputs. We love our local farming community for the spirit of sharing information so that everyone can benefit. We are enthusiastic sharers of our knowledge with everyone who's interested in our journey so far.
Our farm is a 40 acre established avocado farm. We also have other smaller crops and a small flock of free range chickens we keep for eggs. Picking season is only for a month or two in winter but there is always other work to be done to keep the farm.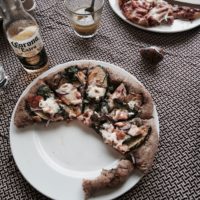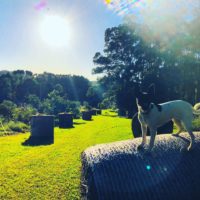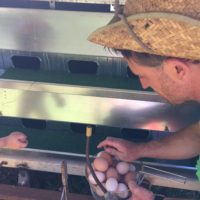 Before owning this farm we were both circus performers traveling the world, working with dozens of nationalities. We know what it's like to travel and feel the need for a safe space and some fun. We also know what it is to work hard and the satisfaction of a job well done. Since becoming farmers we have met some extraordinary people within the industry who have been incredibly generous with their knowledge and experience and we feel it's our duty to continue that generosity. If you are interested to know how to run an organic farm we can help you with everything we know so far from budgeting to harvesting and selling. If you are interested to know everything about circus we can help you out with that too 
 We have some interesting sustainability projects to complete also, such as building a compost hot water system for domestic use and creating reed beds for grey water filtration.
Our farm is located in the glorious Byron Shire and it's subtropical climate. We're just a 25 minute drive from iconic Byron Bay and all that it has to offer. We're a 20 minute drive from the gorgeous seaside town of Brunswick Heads with its idyllic tidal river. We are surrounded by other natural wonders such as Minyon Falls and the Goonengerry National Park. The Wilsons River runs through our property, it's one of the best ways to cool off and revive yourself amongst nature.
              
We are located in a rural area with no access to local shops without a vehicle, there's no public transport available in the area. We are: 10min drive from Mullumbimby, 15min drive from Federal village, 20min drive from Brunswick Heads, 25min drive from Byron Bay, 45min drive from Lismore and Ballina, 45min drive from Coolangatta and Ballina airports.
ORGANIC/BIOLOGICAL METHODS WE USE
Our whole farm is certified organic by Australian Certified Organic (ACO). Our organic approach is to focus on soil health and biodiversity. We make our own compost and have a 2000l brewer where we prepare biological inputs such as worm tea and triachaderma which promotes the health of our root stock.
SKILLS WWOOFERS CAN LEARN HERE
Organic practices & techniques, Gardening, Composting, Pruning, Soil conservation, Mulching, Worm farming, Animal care, Mechanical, Using & caring for tools, Fencing, Handyman, Fermenting foods
We love having WWOOFers so don't be shy check us out today https://wwoof.com.au/members/bigswing/
If this sounds like you and your not a member JOIN WWOOF Today! https://wwoof.com.au/join-wwoof/
The happiest chooks in the Shire are now laying eggs for the Main Arm General Store. Get some today!#properhappychooks #certifiedorganic #realfreerange #mainarmgeneralstore #mainarmstore #byron#northernriversnsw

Posted by Big Swing Organics on Thursday, August 9, 2018