Meet Ann Howard, WWOOF Australia Host for over 25 years,  Danger Island NSW
Written by Lynette Vint
First a little about Dangar Island
The island was officially surveyed in 1862, and purchased the following year by Henry Dangar as a conditional purchase that he improve or cultivate the island. With old age and sickness, he failed to do so, and the island was put up for auction at Parramatta in 1864. Dangar's son, Henry Carey Dangar bought the 76-acre (30.8-hectare) island for £1 an acre.
Henry Cary Dangar was a prominent politician who later became a member of the Upper House of New South Wales. He leased the island to the Union Bridge Company from Pennslyvania, who won a world tender to construct the Hawkesbury River Railway Bridge between 1886 and 1889. Navvies lived in huts and tents on Long Island. Managers and their families, (about 130 persons,) lived on Mullet Island, as it was then. Following H C Dangar's death in 1917, it was subdivided into residential allotments and named Dangar Island. The house that H C Dangar built burnt down in 1940, after the cook and a railway man, alone in the house, were having the cigarette afterwards. Only The Pavilion remained.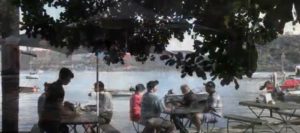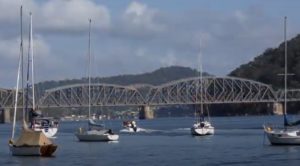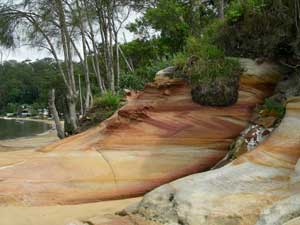 I have always loved the Hawkesbury River and its history, I have spoken to Ann a couple of times and thought I would share her story with you.
How long have you been  on Dangar Island and how did you end up living there?
I came out with my husband and three young sons from London to settle here. My husband died suddenly.  I had a teaching job but no funds and didn't know anyone, so I prepared to return home.  A colleague brought me out to the island to cheer me up and I instantly fell in love with it and have been here ever since.
You're a writer and painter, when we spoke you are currently in the process of writing 3 books, what is the secret to finding the time?
I am lucky that I have a high energy level, I enjoy most of what I do and get up every morning with a sense of purpose.  I like challenges and I enjoy winning against adversity. When I'm gardening I feel calm and contemplative so that when I come back inside, I can write straight away.
You have been a WWOOF Australia Host for over 25 years in total, can you tell us what has been the best memories to date and why would you recommend Hosting to our audience.
I have hosted many different types of people from everywhere and I have always enjoyed listening to them and appreciated the work and suggestions they made. Young Germans and Israelis are the hardest workers, the French are the most fun.  One professor from Cape Cod became a treasured friend and I still stay in email contact with a German university student and a Swiss vet.
Can you describe a typical  day for WWOOFers and what will they be doing on your property?
They receive a good deal from me – a beautiful heritage house in a top location, great air, hot showers, better drinking water than Sydney and the best food that I can provide according to their tastes.  In return I ask for a minimum of 4 hours work a day.  They can choose how they fit in the hours.  If they want a day off to bushwalk they can load their hours onto a different day.  I get up early, so I prefer to get breakfast for them and talk over tasks.  They choose what they like the sound of.  Sometimes I work with them but mostly they work unsupervised.  We are subtropical so there is always clearing work and sweeping to do, maintenance of garden gear.  No chemicals have ever been used.  According to the season, there will be harvesting, watering or planting. If the WWOOFer has a special skill I will appreciate it.  A Korean student, Ki Sok, built me a curving path which I loved – his idea.  A Bermuda man built me an archway.I am painting the outside of the house at the moment.  Maintenance is ongoing.In the evening they can chat to me, go walking, read in their bedroom or watch or listen in the media room, which they have to themselves.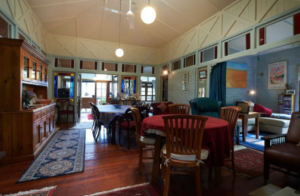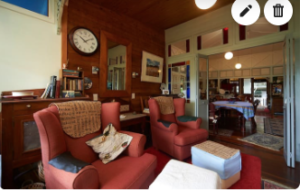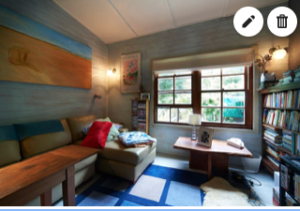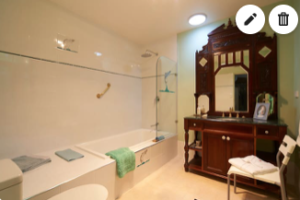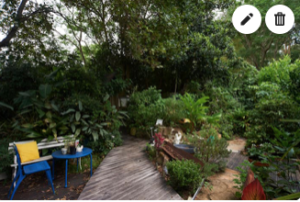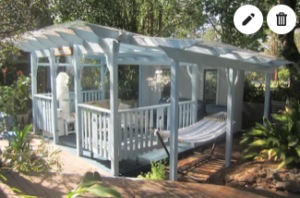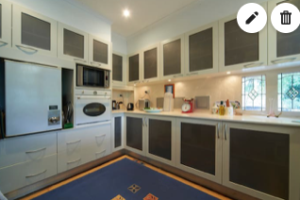 With COVID at the moment, what requirements do you have in place when WWOOFers arrive?
As soon as they arrive they shower, wash their hair and change their clothes. I wash their clothes and disinfect the outside of their luggage and shoes. I have hand sanitisers.  I have intermittent asthma and am anxious not to catch the virus, so I trust them to arrive without knowingly have symptoms or contact with victims.  We are virus free on the island at the moment.  They should social distance from me. And other islanders and observe the rules at our little shop.
To finish off can you tell us a brief story of the house  you are living in, what did it  look like when you purchased it and the efforts to renovate  it to help inspire others?
I have lived in The Pavilion for 47 years and still love it.  When I bought it as a widowed mother of 3 small boys, it was leaning over, with nine holes in an unlined roof, broken windows, and birds flying through plants growing through the rooms.  The old furniture from the Dangar house was in decay, including a cedar table which seats 8.  I had no money apart from my teaching salary, so the boys and I had one task each every day to make it better.  We started by pulling off decayed wood and burning it, cooking on the fire to save money. It was so overgrown, people didn't know there was a house there!. The boys and I had so many laughs, especially when we collected a lot of animals.  I am writing about the old days as so many people have requested me to do so.  Just one story: we didn't have a bath.  The boys said not to worry, they would swim in the river. My middle son, came running home very excited, 'Mum, mum, the lady down the shop has got a bath in her garden with goldfish in.  She says she'll tip out the goldfish and we can have the bath.  A party with islanders turning up to help, with red wine and gifts of food and that was our first bath in this house!
Location: Hawkesbury River
A unique island paradise on the Hawkesbury River near Brooklyn to the north of Sydney, Dangar Island is surrounded by sparkling water and views in all directions. With no private cars to disturb the 'sounds of silence', Dangar Island is a haven of peace and tranquillity and an ideal place for a holiday, a weekend away or even a day trip from Sydney.
An hour  is adequate time to walk right around the island along the bushland path that circles Dangar. The walk includes a visit to one of the island's beaches, seeing the aboriginal cave and rock art and enjoying refreshments at the cafe before catching the ferry back to Brooklyn.
Dangar Island Ferry: the ferry trip is a leisurely 15 minutes from Brooklyn, calling at Little Wobby Beach on the way, and departing every hour 7 days a week during the day (ferry timetable).
Facilities: general store and cafe, community hall, bowling club and children's playground, sandy area with public access at Bradleys Beach.
How to get there:
By car – Proceed north along Pacific Highway to Hornsby. Stay on the Pacific Highway through Hornsby, avoiding the F3 Sydney-Newcastle freeway. when you reach the Hawkesbury River, Take Brooklyn Road to Brooklyn. The ferry wharf is on Dangar Road beyond Hawkesbury River railway station.
By rail – take the Central Coast train from Sydney via Hornsby to Hawkesbury River station at Brooklyn (train timetable). Daytime trains pass through Hawkesbury River station in both directions every half hour. The jetty from which the Dangar Island ferry leaves is a short walk from the station.
If you would like to learn about the history of the Hawkesbury River and spend time WWOOFing with Ann then reach out to her through the messenging system within your WWOOF profile!
Not a member? Join here: https://wwoof.com.au/join-wwoof/  All WWOOFer Memberships are now 2 YEARS, so join today!