Meet Jill and Andrew Stewart WWOOF Australia Hosts for 17 years!
We live on a 230-hectare property in the beautiful foothills of the Otway Ranges. We run our property on a holistic regenerative & environmentally sustainable basis. We have sheep, alpacas, chooks & dogs. We also care for injured wildlife. We practice agroforestry, grow prime lambs, bush foods & native cut flowers.  Having built a cob/strawbale studio where there are ongoing natural building & organic gardening projects.
We welcome WWOOFers who would like to learn more about sustainable farming practices, natural building, organic gardening, animal health, and husbandry. There are always tasks to be done on the property which include general farm work, tree work, stock work, working with animals, gardening & natural building. Our daughter and her partner are into natural dyeing, fermenting, and wild food harvesting. They teach natural building and have built the cob cottage on the property.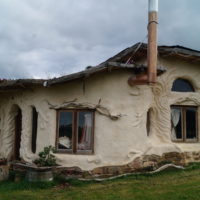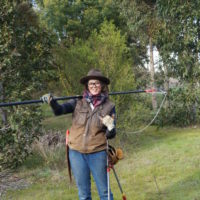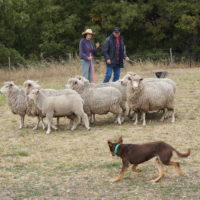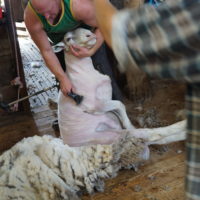 Organic/Biological methods we use.
Our home garden is organic (veg/flowers, fruit, nut trees),  We practice a holistic farming approach, especially with our agroforestry trees. The trees are planted as weather protection, erosion control, land class subdivisions, for water quality, wildlife corridors, and biodiversity, high-quality timber trees have been incorporated into our planting to be harvested on a rotational basis. We are currently experimenting with biodynamic preps on one of our grazing paddocks. We have put in 3 huge beds for growing vegetables, medicinal herb beds, and an orchard.  Our gardening methods incorporate some permaculture principles. The rest of the farm is like zone 4 permaculture!
Special Conditions to be noted when staying here:
We are on tank water, so careful usage is necessary, especially in summer. Short showers, turning taps off when brushing teeth, etc. There is an outside composting toilet which we use as much as possible to save water. The ozone layer is very thin here, it's essential to wear a hat and sunscreen in summer and always have a bottle of water with you our on-farm tasks.
Skills WWOOFers can learn here:
Organic practices & techniques, Permaculture design practices & techniques, Gardening, Composting, Pruning, Soil conservation, Mulching, Wild Foursesood Foraging, Beekeeping, Animal care, Mustering, Using & caring for tools, Natural Building techniques, Fencing, Handyman, Bread making, Fermenting foods, Preserving & processing food, Market produce.
Course and Events:
We run many regenerative farm tours, if one is on while you are here you are most welcome to join in. We also run natural building technique courses (rendering cob making etc) around once per year. Our daughter does natural dyeing, wild harvesting for plants mushrooms, etc.
So much to do and see in the area: 
https://www.visitgreatoceanroad.org.au/towns-and-villages/deans-marsh/


REVIEWS
Lyudmila  and Benjamin 
Our stay at Yan Yan Gurt West was everything we wanted from a WWOOFing experience. Jill, Andrew, and their family and community are wonderful people who made us feel welcome and were happy to share their lives and knowledge with us. We learned heaps about sheep farming, sustainable living, agroforestry, and regenerative agriculture. Not only were Jill and Andrew generous with their knowledge, but they were also eager to learn about us and our backgrounds, which made us feel very included and led to interesting discussions. If you love dogs, you'll love YYGW. If you love native flora and fauna, you'll love YYGW. After our stay, we have become attuned to sustainability in a deeper, more thoughtful way than we have ever been previously. This is the kind of place that stays with you.
Clement
What an Amazing place… there is a really strong relationship with the family, the wwoofers becomes quickly a part of family and the community around ! Work is enjoyable and a good opportunity to share our respective knowledge! Really interesting talk about agroforestry !! Thanks all the family, see you for shearing !! Cheers
With over 20 other hosts in the area why not visit them all?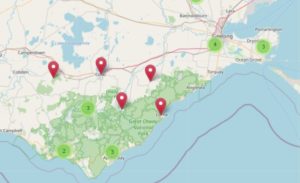 Not a member? Join here: https://wwoof.com.au/join-wwoof/ All WWOOFer Memberships are now 2 YEARS, so join today!