To travel around Australia might feel like the impossible right now, but soon enough you'll be able to travel again, so why not start planning you next life changing adventure?
Get inspired, it's time to take up our 20% discount Apply Code: DREAM
WWOOF Australia has been connecting WWOOFers (Volunteers) with Hosts from many different commercial or hobby farms and suburban growers that are using Organic, Biodynamic, Permaculture, Aquaponics, Syntropic and Regenerative practices & techniques for the past 40 years.
With the assistance of WWOOFers, hosts embrace those extra sets of hands when it comes planting, harvesting, animal care and everyday tasks that come with living and producing off the land, and in return hosts can pass on their skills and knowledge to WWOOFers in the industry they are in.
WWOOF Hosts, Australia wide offers all meals, accommodation, and hands on learning experiences to WWOOFer volunteers, who live with hosts for short or long stays.
The lockdowns have highlighted the need for change in many of you out there, so join WWOOF Australia and start planning that lifestyle change!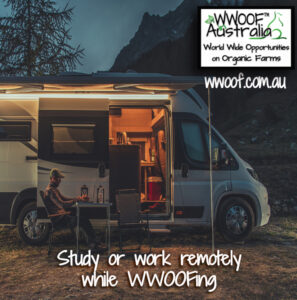 102 of these WWOOF Hosts offer long term opportunities for WWOOFers to Work or study remotely from their properties in their free time.
Have your own caravan? No problem, some hosts of our hosts can accommodate you (written within their profile).
 2 year membership that can be used for any duration, at any time.