Meet Bob and Adele WWOOF Australia Hosts from Blackheath NSW. https://wwoof.com.au/members/bob/
Bob and Adele make natural wine in small commercial quantities on their property in Blackheath, using organically grown grapes purchased from Orange & Mudgee, 2 hours drive away. They also have a medium to large vineyard 30 minutes away that they are bringing back into production and this is where they spend most of their time working at the present time. Their son is a winemaker and viticulturist and helps in the winery from time to time.
Blackheath is a small town with a good range of shops and cafes and is a 15 minute walk from their house. WWOOFers are encouraged to be part of the family and eat and cook with the family and use all the facilities of the house.
We asked Bob and Adele a few questions about their Hosting experience to date:
How long have you been a WWOOF Australia Host and why did you choose to be part of this program?
We've been hosts for nearly a year and chose to join as with the expansion of  Bob's winemaking business he needed help for certain periods of the year but the business isn't large enough yet to be able to employ staff.
What is it like living where you do? 
Blackheath is not a wine region so it's not rural but farming country is only a few minutes away and the vineyard we farm is about 30 minutes drive from our house. We live on the edge of the World Heritage Blue Mountains National Park so bushwalks are almost at our doorstep as is rock climbing. The township itself is small and there are about 5,500 people living here. We have several cafés and restaurants, two pubs and a small bar plus the normal facilities like a small supermarket, butcher, gift shops, art galleries and so on
What is the main Airport I fly into to visit you?
Sydney airport is about a two and a half hour train ride from Blackheath
Describe your Sustainable Lifestyle and why you chose to live like this. 
Bob makes what is known as natural wine which is wine made from organically grown grapes and which has no additives whatsoever. This is not known as organic wine because organic wine may well have a multitude of organic additives including preservatives (usually sulphur). We have a small vegetable garden and try to use organically grown vegetable and fruit and sustainably reared meat.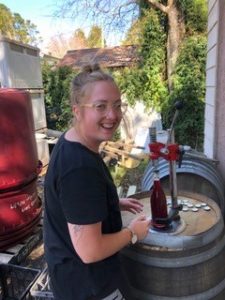 What would be a typical day for a WWOOFer?
It depends on what time of the year it is. In winter most activity is in the vineyard pruning the grape vines. Getting into Spring some of the wine in barrels may be getting to the stage where it needs to be blended and prepared for bottling. Mid to late summer and early autumn is grape harvesting time so very early starts and long days picking and processing the grapes. The processing continues into autumn and there is often some bottling and labelling of the previous years wines to be done. If there is nothing going on in the vineyard or winery (we are a small operation so everything is small scale) there is always something that can be done in our garden or a walk that can be enjoyed.
Where do WWOOFers get to stay?       
We have a large house and WWOOFers stay in what were the children's bedrooms (our children are all in their late 20's and live away from home away from Blackheath and overseas). We expect our WWOOFers to be part of the family and eat together and sometimes join us if we visit friends for meals etc. As our life revolves around winemaking there is often interesting wine to drink at the end of the day if our WWOOFers would like to have a glass or two.
What is the weather like and what is the best time of the year to visit? 
Every season is so different. January can be quite hot during the day but Blackheath has a town swimming pool to cool down in at the end of the day. Winters are cold but it's a good time to bushwalk.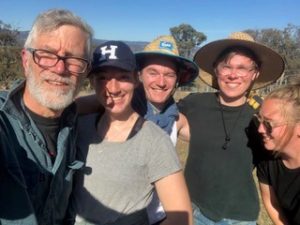 Is there any particular piece of clothing if any you would recommend be the number one item to bring with them?
Work boots, preferably with a steel cap, are highly recommended when the busy winemaking time is happening (February/March). Winemaking is hard, physical wet work so if you aren't used to physical activity it might not be the place to stay.
What will you teach WWOOFers during their stay with you?
Management of grape vines and basic winemaking principles.
What has been the best memory to date an experience you have had as a Host with WWOOFers?
Seeing young people realise that they don't necessarily have to conform to conventions and go back home to do what most of their friends and family do with their lives. Not that there is anything wrong with "normal" jobs but expanding one's horizons and thinking outside the square is a valuable experience.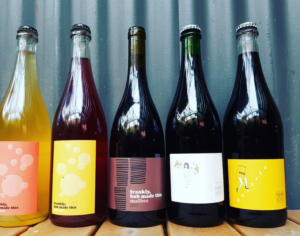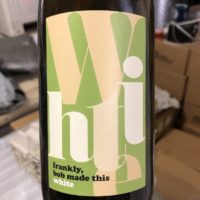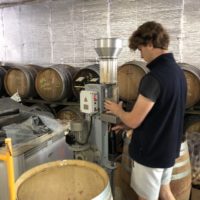 Do you have any advice for Hosts or WWOOFers to help them make the most out of WWOOF? 
Try to get an understanding of why your WWOOFers are travelling or if you are a WWOOFer, try to understand why your Hosts do what they do.
Would you recommend being a WWOOF Host and why? 
Yes, but choose your guests carefully to try and find WWOOFers who are interested in what you do as opposed to just looking for a cheap place to stay. We have only been a Host for a relatively short period, but all our guests have been wonderful as we have tried to match them to our lifestyle and environment. Treat your WWOOFers as family and don't beome a Host if you're only looking for free labour. Treat your WWOOFers well and they will become friends for life.
If learning about Organic wine is something you would love to do and you're not a WWOOF member yet, Join WWOOF Today! https://wwoof.com.au/join-wwoof/