If you want an extended family, genuine, interesting people you can rely on and a wholesome and fulfilling break from all the crazy, then this is the place for you. I've learnt a lot from the Bucheler family, it has been a heartwarming experience that I have shared with them and I've made memories and friends I will never forget. This family was there for me in the toughest of times and it made all the difference. The atmosphere is warm and welcoming and there is lots of garden and animal work to fill your days. If you are lost and need to find your way, if you need somewhere to belong along the way, then consider a stay with the Bucheler family 
 A little about the Bucheler family:
We have been WWOOF Australia hosts since 2011 and hosted many incredible WWOOFers during that time. We live on a 2-hectare property in Macclesfield, South Australia with the young Angus river running through it. We have organic gardens with fruit trees, all sorts of berries, vegetable garden free-roaming bantams, big-laying hens, flower beds, lawns, as well as 2 goats on paddocks.  We run a sustainable architecture & building consulting business from home and offer holiday accommodation. Help is always needed in the garden & paddock, picking berries & apples, looking after animals, weed control, making firewood, compost, cleaning up sheds & around the place, sometimes on a sustainable building site.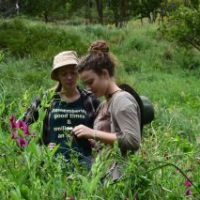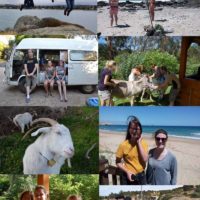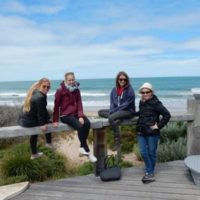 We live 45min by car from Adelaide, 45min from safe swimming beaches and 45min from the surf, so we are pretty central to so many things to do in your free time. We have accommodation for 2 WWOOFers in a separate stone cottage and another room in the main building. We all assist in the preparation and cooking evening meals. Delicious home cooked food for the evening meal.
The Bucheler family also offer to Host WWOOFers who are Studying or Working Remotely, so if this is something you are looking for, check out their Host Profile for details.
Feedback left by Marina & Lena 
We came here for only three weeks, but I (Marina) ended up staying for 4 months. We learned a lot of things, working in the garden and with animals, but also enjoyed our weekly trips with Bernward, didn't matter where we went – Beaches, Cinema, Feeding Kangaroos – it was always fun and relaxed. Nice and cozy movie nights, game nights, lots of cake and an environment that makes you feel just like home, made me stay for so long Thanks for  everything!
Feedback left by Franka
Dear Barbara and Bernward, the time has come to look back at my stay with you. After picking me up at the airport it took only a little time to feel like at home in Macclesfield. I have enjoyed being a part of the family and to live together with the other helpers who stayed with me. It was a particularly good experience for me to work in your nice garden and your household and to take care of your animals. I loved the meals cooked by you Bernward, I will never forget our five-day stay in the beach house and all the other excursions we have made around Adelaide. A big thank you for staying with you and for supporting me in my own travel plans after my stay. Please pass my greetings to your family. With love Franka
So if you want to spend time WWOOFing with this amazing family, contact them through the messaging system!
Not a member?
 

Join here: 

https://wwoof.com.au/join-wwoof/  All WWOOFer Memberships are now 2 YEARS, so join today