WWOOF Hosts Shamrock Vale Station https://wwoof.com.au/members/qg478/
'How sweet it is to be loved by honey!! Our WWOOFers enjoying the taste of our fresh home grown organic honey as they help out and learn all about our beautiful bees.'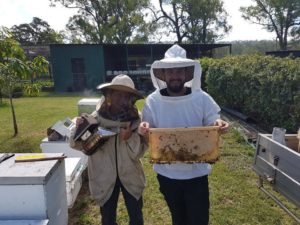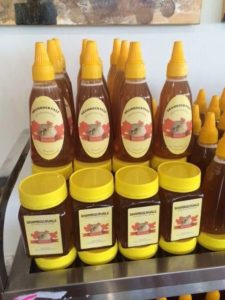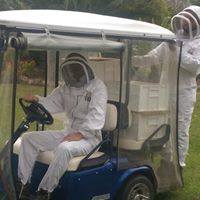 FULL PROPERTY DESCRIPTION
Since purchasing the farm in 2013, we have been converting it to be more sustainable. We've added rainwater tanks (over 180,000L) and 6 solar PV systems (over 77,000W). We often use electric golf carts around the homestead grounds and are expanding the vegetable gardens & fruit orchards for our own self-sufficiency.  Work incl basic gardening, planting, weeding, mowing (ride-on), whipper-snipping, hedging, egg collecting & GFM.  Depending on your level of interest we also can provide experience with cattle and or bee keeping.
We have modern, clean separate accommodation for WWOOFers, with own kitchen, bathroom, laundry & 4 bedrooms. Food provided for self-catering.
No drugs. No children. No smoking inside please.
Lots of cool after hour activities – billiard table, ping pong, fishing & kayaking on our lagoons, hiking in our our valley with scenic views of the region or relax and read a book at our gazebo on the lagoon.
SKILLS WWOOFers CAN LEARN HERE
Gardening, Pruning, Beekeeping, Animal care, Mustering, Mechanical, Fencing
Contact WWOOF Australia and get in touch with the REAL YOU!  https://wwoof.com.au