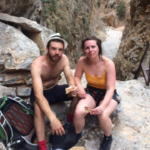 Meet Billy and Cat, WWOOFers from England
What country are you from? 
I grew up in Hampshire in England, the actual town you would never have heard of but it's famed for producing Bombay Saphire Gin, has the only working silk mill in the U.K, and the author of the classic children's book "Watership Down" also lived there, not to mention Libertines frontman Carl Barat. Whitchurch.
What do you both do in your home country?
I studied fine art and then media and after a brief spell as a cameraman and editor (working inside was not for me), I retrained as an Arborist, any job that involved climbing trees was clearly a step in the right direction. I then worked for two years for a company in Sussex before setting up my own business which I ran until I decided to go and work a year in Australia. My girlfriend Cat studied fashion in Brighton where we met and worked in London until we set sail.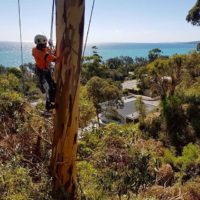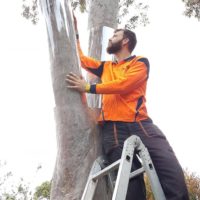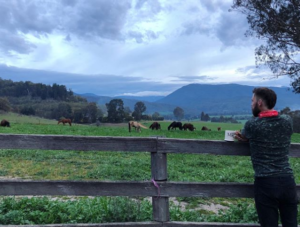 Have you and Cat WWOOFed before?
Yes, when we arrived in Melbourne in May 2013 I was absolutely shocked to learn that Australia has a winter. I literally thought you had hot and very hot here. The plan had been to work for 6 months, save money, and then travel for 6 months. But with the alarming onset of winter, we decided to travel first and work second. I was always good at putting off things that I didn't want to do. So we traveled up the east coast and WWOOFed for about 4 months, 10 farms in all. Our favorite stay was a 5-week stay at a dairy farm in QLD
What have you learned to date WWOOFing?
I grew up on a farm so had a very rough bunch of skills, I also knew and understood the process from pasture to plate, WWOOFing has given me unparalleled access to different farming methods and allowed me to improve on these skills. Sheep shearing is on the agenda today and they say "you can't teach an old dog new tricks" l will keep you posted. I also learned that farming is a marathon, not a sprint and most WWOOF hosts are working towards something bigger than naked profit. In a world of intensive farming and instant gratification its nice to see things being assembled more slowly and thoughtfully.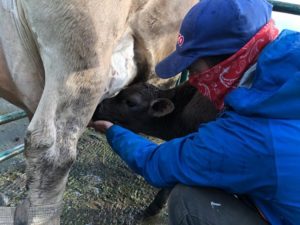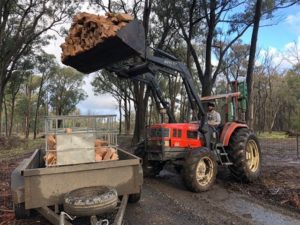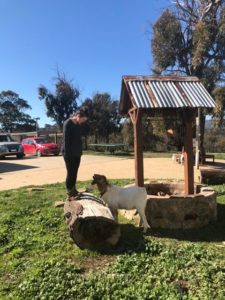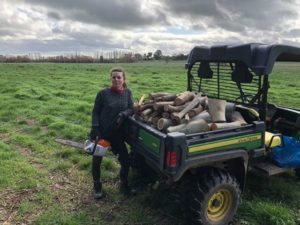 What have you learned as individuals and about each other?
Taking your outgoings and an income out of the equation is a great way to remind yourself that money is just a means to an end. The pursuit of it is often a somewhat hollow existence and if you have food, shelter, and a purpose you start to realise that that's all you really need. I do miss croissants and coffee but when you help a three hour old calf suckle from its mother for the first time it can transcend baked treats.
Can you tell us what projects you have been doing with hosts?
Its been hugely varied from host to host as everyone is trying to achieve something slightly different, our first host owned a homestead and wedding venue so we did a lot of rose and tree pruning, tree planting, hedge cutting and I tidied up some huge cypress trees damaged by wind. The second host was concentrating on firewood harvesting so we did a lot of cutting and splitting along with deliveries and tractor work and our current host is building an array of things that will benefit the community, from growing vegetables for a local soup kitchen to sheep shearing with a mind to run wool spinning and craft workshops.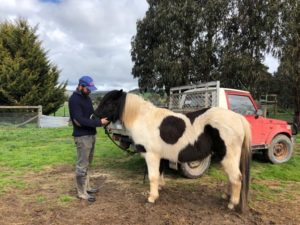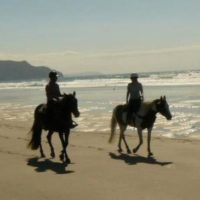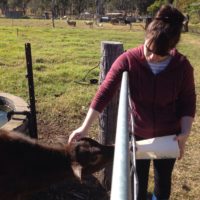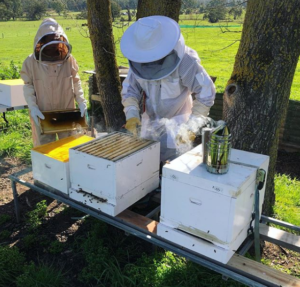 What states have you been able to WWOOF in so far?
COVID-19 has slammed the door shut on everywhere but Victoria for which I shall be forever grateful. We lived in Melbourne for 7 years and almost dismissed it as an area we knew and did not need to explore further. Exploring it has reminded us of its understated beauty. Currently in the high country near Mansfield and absolutely loving the green hills and the snowy mountains that tower above them.
How have you found traveling with COVID?
It has limited us to working in winter, in Victoria but WWOOFing has always been about adapting quickly to different situations, COVID has just been another element to that. If it hadn't happened we would not be enjoying and exploring Victoria to the same degree, so I refuse to see it as a negative. Saying that I wouldn't have minded it being a few degrees warmer these last few mornings.
When do you both go home?
Not in a great rush to board a plane any time soon and with Citizenship in the bag we have no visa hoops to jump through, so in all honesty we will go home when the trip is done. I remember thinking that the trip may take about a year but now we are thinking maybe two. We are managing to not spend much money so there is no financial pressure and the trip will take as long as it takes. Follow our progress on Instagram (thewrongwayround2020)
Not a member? Join here: https://wwoof.com.au/join-wwoof/ All WWOOFer Memberships are now 2 YEARS, so join today!