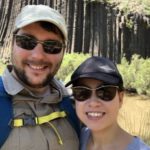 Andrew and Serena from Melbourne Victoria
We have known about WWOOFing for some time now, we were backpacking around South East Asia 5 years ago and we think we heard about it speaking with other backpackers or perhaps picking up a leaflet in a hostel.
We are a couple, both originally from the UK, now living in Australia. We both have a passion for travel and meeting new people and learning new skills.
I, Serena really enjoy working in my garden in Melbourne and I'm constantly growing vegetables, fruits and flowers. I aspire to have chickens at some point this year, the coop has already been assembled! Andrew enjoys the technology side of gardening and has a small hydroponics setup and is also an avid DIY-er with a moderate level of skills but plenty of desire to learn from others.
We joined WWOOF Australia in September last year and have been on one WWOOFing experience to date, we had the pleasure of visiting Paul Hodgson & Kaye Mirtschin on their property at Carlise River, Victoria.
We loved our time on Paul and Kaye's dairy farm. We learnt a lot about the dairy cows, about biodynamic farming and their way of life. It was a great experience and both Paul and Kaye are super friendly and accommodating. Their warm hospitality and the effort they go to in teaching us so many new skills (tractor and ATV driving, milking cows, making yoghurt and ricotta cheese). We cannot believe how quickly the time went; we'll be back again someday for sure.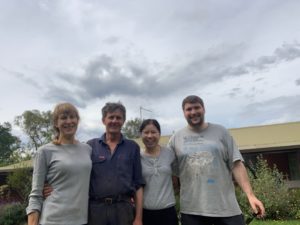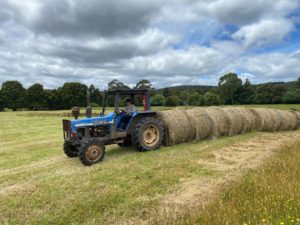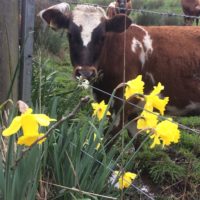 This was our first WWOOFing experience. We haven't planned another stay yet, as generally you need at least a week to throw yourself into learning it all and we aren't sure of our holiday availability for the rest of the year. The good thing is our membership goes for 2 years so we can pick it up and go WWOOFing whenever we have free time.
We learnt very quickly that farming is hard work and we are much more appreciative now when we are buying milk having spent some time seeing how a dairy farm operates, and also what biodynamic farming was all about.
The other great things we learnt included driving a tractor, the different breeds of cows, milk prices and what affects them and the farming industry as a whole, new cooking skills such as making yoghurt and ricotta (it's a lot simpler than we thought) and other farming duties like herding and milking the cows.
We would highly recommend WWOOF. It is a fun experience with real life work on a farm that is rewarding knowing that you have helped someone who might appreciate a little bit more help in the busy farm season. Our hosts were super friendly and accommodating and it was great to pick up new skills, most of all to see their way of life (very different to city life) and learn about what actually is involved from getting food from the farm to our table.
The biggest advice we would give to everyone before they start their first WWOOFing experience is to talk with your hosts prior to arrival and discuss a typical day, what to take like clothing shoes etc., find out what there is to do in your free time in the area, which you can always research on the internet. Generally, be prepared and plan and communicate prior to your arrival and you won't be disappointed.
Why not learn from the experts?
 Join here: https://wwoof.com.au/join-wwoof/  All WWOOFer Memberships are now 2 YEARS, so join today