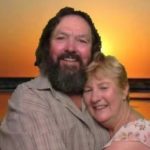 Meet Gerry and Dot Hetherington from Perth Western Australia, who joined WWOOF Australia, just over 12 months ago and we wanted to touch base with them and see how their experience as a Host has been.
The HUF is an urban farm located in the picturesque hills of Perth located approx. 30 kilometres from the CBD.  The property is located on an acre of land with a vision of self-sufficiency. Our live produce includes a bee hive, chickens, quails, aquaponics (for fish farming), mealworm farms, black soldier fly farms and worm farms. We try and make own produce on the property including preserving, pickling, dehydrating. The property has solar into the grid but we are wanting to expand to a solar standalone battery system to run the additional aquaponic systems we want to build and install.
We use all natural fertilisers and soil prepared on site with own compost, mulch, worm castings, bug frass. Plants are regularly watered by the aquaponic fish water adding extra nutrients. Poultry manure is aged and then composted. Our vegetable gardens are grown in both raised beds and in ground from heirloom and organic seeds with a big emphasis on seed saving from our own produce.
We thought we would ask them a few questions;
 How long have you been a WWOOF Australia Host and why did you choose to be part of this program?
I joined in August last year. I have a lot of maintenance and unfinished jobs, also  not being well I needed help and the company has been therapeutic for me as well.
What is it like living at Glen Forrest, Western Australia (W.A)  Its very peaceful here, country living, with the city 20 minutes away, so we have the best of both worlds really.
Describe your Sustainable Lifestyle and why you chose to live like this. Our aim is to grow as much organic fruit and veggies as possible, our dream is to be ultimately self sustaining in all aspects.
What would be a typical day for a WWOOFer? Now that is a tricky one, with hand watering, mulching, (both making and spreading) weeding, at various stages of the year, mealy bugs, black soldier lava, chooks to feed eggs to collect, normally quails as well but none at the moment, then there may be some digging, concreting, building, cutting firewood, bee keeping, harvesting crops, helping with home preserves, bread, butter, and cheese making, and home brew! All of which could change at a moment's notice!
SKILLS WWOOFERS CAN LEARN HERE
Organic practices & techniques, Permaculture design practices & techniques, Gardening, Composting, Propagating, Pruning, Mulching, Worm farming, Beekeeping, Animal care, Mechanical, Making tools, Natural Building techniques, Handyman, Bread making, Fermenting foods, Preserving & processing food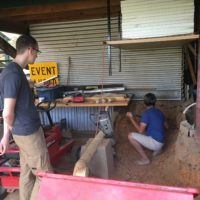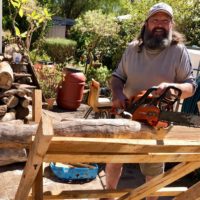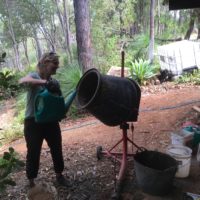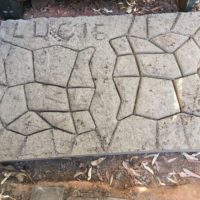 Where do WWOOFers get to stay when they visit you? Mostly in the main house, queen size bed with a shared ensuite (one or a couple) with tent, swag or their own vehicle! It all depends, when they connect with us, we discuss what their requirements are, some WWOOFers are travelling and have their own accommodation like a caravan or tent or they choose to stay with us in the house. Every traveller is different so it's always good to build up a bit of a relationship either over the phone or email through the great email system WWOOF Australia has built into our Profiles which allows us to communicate with each us easily.
 Is there any particular piece of clothing if any you would recommend be the number one item to bring with them? Broad brimmed hat in the summer, sneakers and a great attitude, never leave that at home or you will miss out a lifetime experience.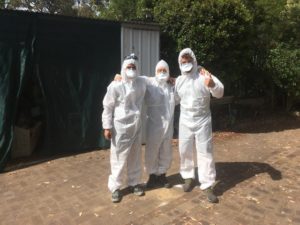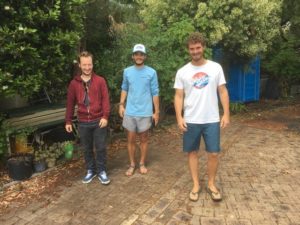 What is the main Airport I fly into to visit you? Perth.
How have you found the support from the WWOOF Office (be nice lol) What support???? Lol! Sorry, excellent is the only way to describe the staff at the WWOOF Office! This was all new to me but it has turned out to be so much fun. If you have any questions anytime call the office they are always there to assist and have a chat!
There are a lot of tourist attractions in this area, that many WWOOFers get the opportunity to explore, we have one of the worlds great walking trails, the 'Bibbulmun Track' starting near here. The Swan Valley wine region is 'O' so close. The John Forrest National Park just across the highway, other national parks in the area. Natural water falls. Free camp grounds throughout the region. Bus stops at the end of the street, Midland rail station 10/12 minutes down the highway, or Mundaring 10/12 minutes up the highway, very central to both areas so how can you resist a visit?
If you would like to visit Gerry and Dot https://wwoof.com.au/members/huf03/  but you're not a member, then don't miss out! Join Today https://wwoof.com.au/join-wwoof/
We are offerring $10.00 off mens T-Shirts for all WWOOFers and Hosts who join our program https://wwoof.com.au/product/wwoof-australia-mens-short-sleeved-t-shirt/   
Just type in Code: WWOOFTEE