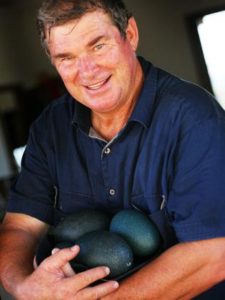 Wiluna Emu farm began in 1976-77 run by Applied Ecology Pty Ltd where Kip Venn was employed to help with research and farm management.
In 1980, in conjunction with CSIRO Kip and his wife Charmian began further research into emus at their property in Toodyay Western Australia, 90 kilometres from Perth.
In 1987 Kip and Charmian's Free Range Emu Enterprise was one of four to be granted the first commercial licence to farm emus in Australia.
Their initial flock of 100 emus saw them produce 1000 chicks a year, as well as all the products including emu oil, meat, feathers, eggs and leather.
Their farm at Toodyay opened to the public in 1991.
Kip and his wife, Charmian, took a bit of ribbing from neighbours when they started raising emus on their farm. They realised that emus are much easier to raise than sheep and would eventually be a lot more profitable.
The Venn's call their property "The Free Range Emu Farm" and usually run approximately 100 emus – producing 50 chicks each year. Emus take up half the space of pasture land than sheep and will graze on land that sheep won't touch.
Once the farm was operating, they found that they were having so many visitors, they started charging admission for tours. They have more than 1000 visitors per year. As time went on, Kip Venn and other farmers formed their own marketing co-operative – Western Emu.
Their latest Review from a WWOOFers:
Christophe Bertin
15.03.2020
We spent 3 weeks with Charm an Kip and it was really wonderful! They are kind and interesting people. They Took the time to explain slowly the thing to do as they knew that our english was not very good. The work they ask was easy and just a few hours. They will never ask you to work when it's too hot or when it rain. You'll be involved in taking care of emu and sheep, do some gardening. You will have your own accomodation in the middle of fields which is perfect to see the milky way. We highly recommend you this woofing. It was a pleasure to help Charm and Kip and we 'll definately come back if we can. Christopher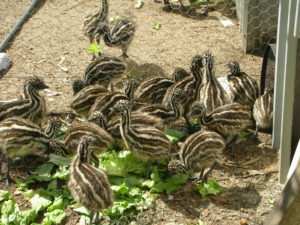 Accommodation for 2 people in separate farm house.
Children by arrangement, a mixed diet, some shared meals, some self-catering.
Non-smokers only. Prefer 2 week stays, negotiable after first few days.
Currently Kip and Charmian are looking for a couple who can help look for and collect emu eggs on our free range emu farm. Feeding emus and sheep is also on the list. You will also be helping with lambing and sheep work and vegetable gardens. They are an hour away from Perth CBD, now as restrictions are being lifted around  the country please do not hesitate to reach out to them to set up a visit.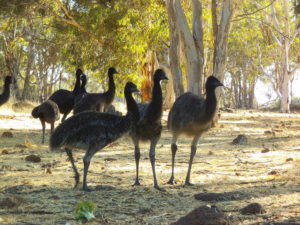 Not a member? Join Today https://wwoof.com.au/join-wwoof/  Type in Discount Code: WWOOFAUSTRALIA and Claim 3 Month Extra FREE