By Lynette Vint
Meet Kim Clark WWOOF Australia Tasmania Host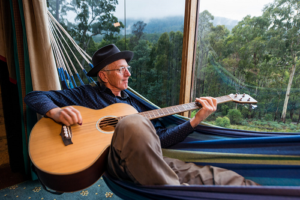 When I was twenty, in 1974, I came to Tasmania during holidays from Latrobe Uni where I was studying literature and music. I didn't want to go back. Tasmania was where I wanted to be. The following year I bought land in Jackeys Marsh, a place of incredible beauty near Deloraine. I paid eighty dollars per acre for a seventeen acre lot of hilly bushland and put my roots down. 'Nut Garden' has been my playground for forty one years now and my architecture has accumulated and developed into a showcase of my ideas and skills. I take risks at home and learn techniques that I can use in other people's structures.
It's when a building is sympathetic to its environment and draws inspiration from its environment that 'art' comes back into architecture. The mimicry of natural forms and shapes draws the eye. The round window in the square wall creates movement and is like an eye to the outside. With curves there is grace and movement. I find them sensuous. They catch our attention and lead our eyes to other features of the building.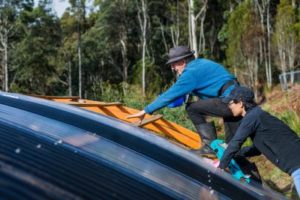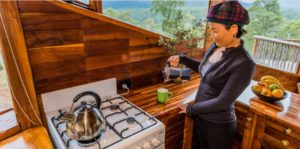 Nestled within the Kooperoona Niara (Great Western Tiers) World Heritage area, The Nut Garden is a 16 acre off grid property which incorporates unique architecture, sustainable living and working with the land to help create a beautiful place to call home.
I've always had the building of structures in my life. My Dad made all the bricks for our first family home. My family always lived on the outskirts of country towns in Victoria (Port Fairy, Portland, Colac) where the built environment gave way to paddocks and the bush. Freedom and open spaces to run wild. It was cubby houses and tree houses and puppet theatres. Building was part of my 'play' and it still is. The menagerie of reptiles, mammals and birds that I kept in the backyard demonstrated many attempts to house native animals in surroundings where they might feel 'at home'. I wanted to keep them wild. The placement of a hollow log, branches placed to break the symmetry of rectangles, creating hiding places and using glass to trap the heat of the sun and bring the outside in. These things softened captivity and made it more bearable. I built homes for animals. Now I build cages for humans!
As hosts we have hosted WWOOFers for years and formed some amazing friendships with people from all over the world. It is fair to say that the property and ourselves have benefited greatly from the work and creativity of the WWoofing family and we hope to host many more amazing people into the future.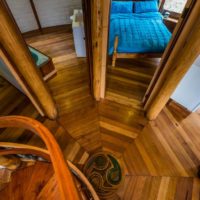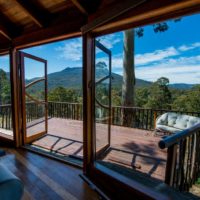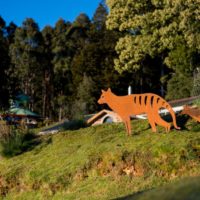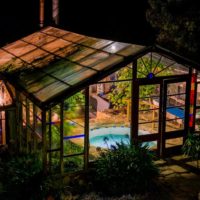 What tasks will WWOOFers get to be involved in whilst they visit you?
We always have projects on the go and depending on your passions and skills we will go from there. These may include:
Mudbrick making, Stone Masonry, Bush Carpentry, Steam Bending of Timber, Sustainable Energy (solar and hydro), timber milling, Sustainable land management and working towards subsistence living on the property. All of the gardens and Orchard are completely organic, we are also passionate about using natural materials within our buildings.
Other activities we also enjoy are playing music, going fishing, bushwalking, horse riding and good conversation so its always a good mix of work and play here.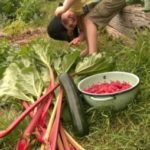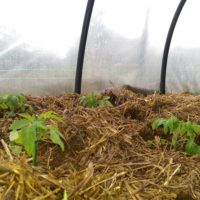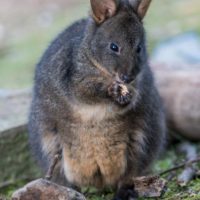 Things to do in Tasmania:
https://wwoof.com.au/members/thenutgarden/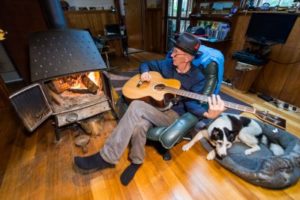 Kim and Kenna are 3 Hours from Tasmania's  International Airport and 1 hour from the Devonport Domestic Airport, so if you are coming to Tasmania or would like to set up a visit,  send them a message through the messaging system within your Profile today, https://wwoof.com.au/members/thenutgarden/. WWOOF Australia has over 63 Hosts in Tasmania to visit!
Not a member? Join Today https://wwoof.com.au/join-wwoof/  Type in Discount Code: THENUTGARDEN and Claim 3 Month Extra FREE