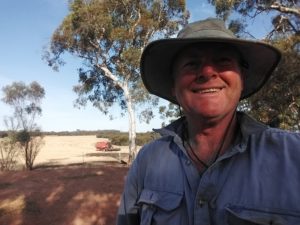 By Lynette Vint
Meet David McFall WWOOF Australia Host since 1987!
We thought we would catch up with David McFall from Cherry Tree Pool via Kojonup, Western Australia and see what's happening there and ask a few questions
You have been with WWOOF Australia since 1987 wow 32 years congratulations. What has been one of the highlights during this journey?
Its never a small world when you have people of all nationalities and creeds rocking up to do WWOOFing. The cultural exchange is a key highlight and remains a strong feature of the program.
Crazy to think it is over 3 decades of networking.  'Back then' contact was all land line, fax and penned letter.  These technologies now exhibition pieces in a museum!
You're 4th Generation, tell us a little bit about that, who now works on the property (one family or a couple on the property).
Farming is dynamic, so too are farm families. The original holdings were developed by the Davis family – 4 brothers and their father in the late 1920's.  At times there were over 11 people operating the farm.
The Davis to McFall connection is via Fay who married a Irish immigrant [George] and they both took up farming buying into the disbanding Davis Bros partnership. In the 1980's parents grandparents and brother were all hands on.  As we kick into 2020 my brother [Michael] is pursuing business of farm in the fencing game and the operations are part time with seasonal help. Grandparents are now dearly departed and folks retired in the local community with the young McFall's off working and or studying so quite the transition from earlier days.
What type of Livestock do you have?
We did run cattle and sheep…with horses to round them up but being away of farm running various other ventures the stock were sold and we now just agist other peoples stock i.e. rent out paddock space. This works well and the 2 remaining horses get a break as do I, as ones a bit flighty and I'm over the near death experiences. Currently hosting sheep and cattle to keep the grass down and recycle nutrients.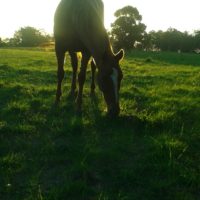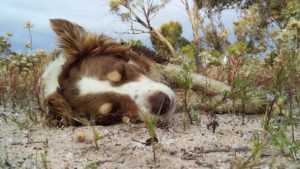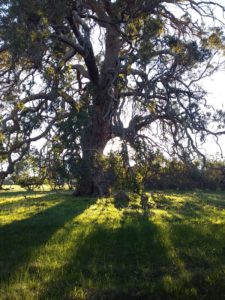 You mention in your Profile your a very nature based property with a diversity of production units from grains to tree crops. Can you expand on this?
Yes the nature base values come courtesy the strong river feature we have through the property. It's the Carlecatup River which eventually flows to the Blackwood and out south through Augusta.
The property tucks in behind nature reserves and on farm remnants. Progressively we have undertaken quiet a extensive planting program that now links the natural bush areas right across the property.
Point being we have chosen to farm 'agro-ecologically' which is a system design that looks at enhancing ecological functions on farm. Everything is connected and as farmers we believe you must tread lightly as best you can.
A key element of this farm future is the point of creating diversity. Diversity forms the 'robustness' of life and its capacity to go forward. A bunch of reeds is harder to bend than one so on farm that signal is employed.
i.e. a number of interactive enterprises such as traditional livestock and cropping infused with carbon tree plantings, passive tourism and other enterprises like native foods. More the merrier. It adds vibrancy and like a symphony orchestra takes it to another level when all the instruments arc up.
The property is certified organic. Biological farming practices have been ongoing over a number of decades. A feature of the production layout is the interconnecting vegetation and water conservation works. We aim to be free living farmers on a free living farm.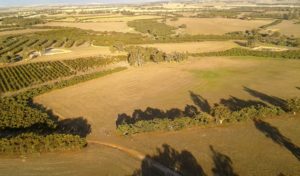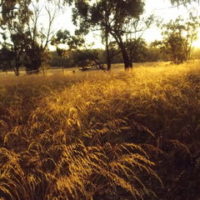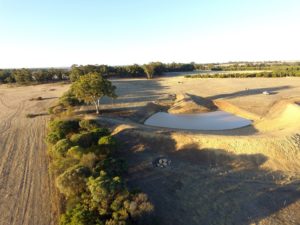 Can you explain in greater detail the work you have implemented to date to achieve this?
Once again I will start with philosophy and the spirit.  Back in the 80's we adopted the Steiner system of Bio-dynamics. If you explore Steiner the ag component is but one small part of his teachings that span health, education and the pursuit of enlightenment.
A farmer, like all, is on a journey – here today, gone tomorrow, though the 'farm' lives on in all its forms as it is something of greater substance. It's a connection to country thing and a sense of going about your life fully immersed in the great gift that is. Prior to the Davis family influence the land was 100% woodlands and walked by the Wilman peoples. Things evolve so it is a privilege to carry the baton and run a good race. Farming organically is a high bar challenge though it is a system we have adopted as it best reflects our view of the world and how food should be produced. You are what you eat and we all sit on the shoulders of giants, so the system is humble in respect of the environmental platform it roosts on and the integrity of the product it seeks a market for. As mentioned the agro-ecological approach sets about to mimic the founding functions of this landscape and its cultural management so the investment into vegetation and hydration are not missed. If you wish to context that ~ 1.5 million trees, 15 dams interconnected with over 7km of water collection and ~120km of fencing!
WOW! – (That s from the WWOOF Office)
If I'm a WWOOFer and fly into WA how far are you from the nearest airport?
We are ~3 hours drive south east of Perth towards Albany.
What is the preferred length of stay?
Generally a week or two. We do prefer WWOOFers to have independent transport as there are plenty of sites about worth exploring.
What will WWOOFers learn when they visit your farm?
Most learn what they seek. That sounds cryptic, though we do find the right attitude to the WWOOF project and its values goes a long way.
It is an exchange – the property offers insights to farm systems and the Australian way of life and we hope the WWOOFer offers energy and an enquiring mind. Our preference is for more 'mature' aged WWOOFers  i.e. 30+ though it's the attitude that counts.
What is the most appropriate clothing WWOOFers should pack when coming to your property?
Summers are warm during the day and cold at night. Winters cold throughout. A good set of work wear including boots, although the local op shop is not to far away so advice is always to travel light and dress like the locals.
Are families welcome to come and WWOOF there? Yes, certainly.
Do you have Wifi in the area? Yes we have good coverage.
How close it the nearest town? Katanning to the east is the regional town.  Kojonup to the west is also a option.  Both a 25km drive.
What do WWOOFers get to do on their time off in the area?  We recommend head to Albany…get some beach time in and wonder at this gem of a location.
WWOOFers, if you would like to visit David and his brother Michael in Western Australia, this is their Profile  https://wwoof.com.au/members/ww004/ reach out through our messaging system within your Profile and set up your stay for 2020.
Not a member? Join Today https://wwoof.com.au/join-wwoof/  Type in Code:  WWOOFWW004  and Claim 1 Month Extra FREE