By Lynette Vint
Meet WWOOF Australia Hosts Kate & Simon Tol, who have been WWOOF Hosts for the past 4 years.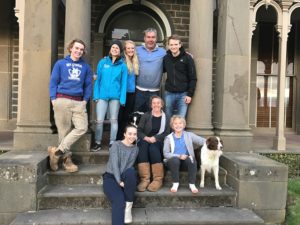 Mount Mitchell has an impressive kitchen garden and an expansive orchard producing fresh fruits, vegetables and herbs that can be harvested and enjoyed by guests at their leisure.
In addition, the surrounding paddocks on the Mount Mitchell property comprise of premium grazing land, perfectly suited to farming quality stock including fat lambs and supreme beef production. Crops and quality pasture have resulted in quality grain, canola and hay.
It's History
Mount Mitchell was designed by renowned architect Charles Webb. Known for commissions including the Windsor Hotel, John Knox Presbyterian Church, Melbourne Church of England Grammar School and the Royal Arcade in the centre of Melbourne, having an architect such as Webb was quite a coup for this country property in the early colonial times of Victoria.
Building commenced in 1860 and the homestead was completed late in 1861 where it remained in the Robertson family until around 1926. During this time substantial extensions were added to almost double the size of the homestead.
The Barrett family became the new owners around 1926 and set about extending the garden and planting the now imposing pine trees that line the driveway from the gate to the homestead itself.
Sadly, Mount Mitchell homestead fell into disrepair until the 1980's when Richard Salter purchased the property and set about refurbishing the home to its original state. This classic Victorian historical gem was brought back to its former splendour and is now classified by the National Trust and Heritage Victoria has listed the property.
In 2015, Mount Mitchell is entering a new and exciting phase with the current owners, Kate and Simon Tol, who have opened up the property with stunning wedding venues throughout the grounds and buildings and as a country holiday accommodation venue here in the famed Pyrenees region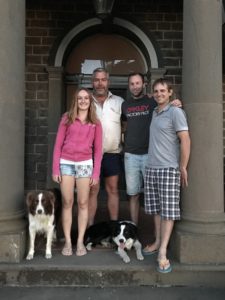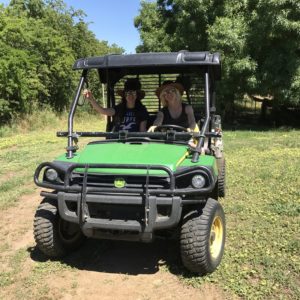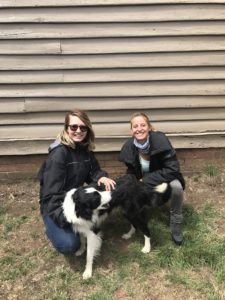 Catching up with Kate we asked a few questions:
How long have you been a WWOOF Australia Host and why did you choose to be part of this program?
4 Years. A friend with a similar farm suggested having WWOOFer's
Is it a Family Business/Homestead?
It is a private property. Our family lives here at Mount Mitchell, where we run a farm and host occasional events.
What is the main Airport I fly into to visit you?
Melbourne. From there WWOOFer's can catch an airport shuttle bus to Ballarat where I can collect them and bring them to the farm, which is approx 30 minutes further North West.
Describe your Lifestyle and why you chose to live like this.
We are not self sufficient, but we often produce our own food. Prime lamb and vegetables/herbs/fruit.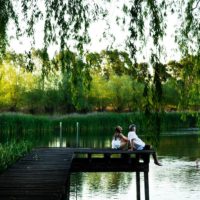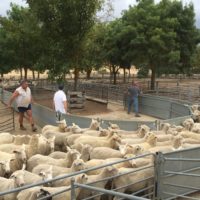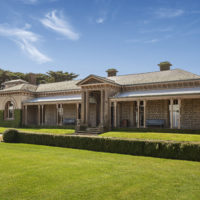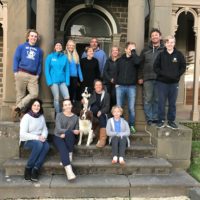 What would be a typical day for a WWOOFer?
WWOOFer's meet me at the homestead at 8.30am, where we then decide what tasks they want to complete that day. We have a WWOOFer diary which lists a number of jobs, which then can be managed around weather conditions, personal interest and urgency. We can always find something that will engage.
WWOOFer work includes mowing, gardening, hedge trimming, sheep work, fencing, wood splitting, looking after farm animals & pets, machinery maintenance, painting, building & general farm and house maintenance.
Where do WWOOFers get to stay? WWOOFer's are very spoilt here at MOUNT MITCHELL. They have their own 3 bedroom house, which is located a short distance from the homestead. During their stay they are mostly self sufficient, with the occasional meal together. We will shop for food approx once a week.
What is the weather like and what is the best time of the year to visit? We definitely have 4 seasons, but they are all beautiful. WWOOFers often travel after they stay here, so depending on what activities they are keen to do may determine time of the year. Most travel up the east coast of Australia, before returning home.
Is there any particular piece of clothing if any you would recommend be the number one item to bring with them? Just some work boots.
What will you teach WWOOFers during their stay with you? Lots of new skills related to gardening/farming etc. Initiative, efficiency, productivity.
What has been the best memory to date an experience you have had as a Host with WWOOFers? We hosted two young Austrian farmers that were workaholics, displaying amazing skills and initiative. They disassembled, relocated and erected a giant shed from 50 km away in 5 days. We have created many ongoing friendships.
Do you have any advice for Hosts or WWOOFers to help them make the most out of WWOOF? Work with your WWOOFer, as you'll enjoy them as a person, guide them and achieve the quality of job you desire.
Would you recommend being a WWOOF Host and why? Yes, it is a WIN WIN! WWOOFA's have an amazing and authentic Aussie experience and they are of great help.
Kate and Simon are 2 hours from  Melbourne Airport so if you are coming to Victoria send them a message through the messaging system within your Profile today, https://wwoof.com.au/members/vb288/
Not a member? Join Today https://wwoof.com.au/join-wwoof/  Type in Discount Code: MTMITCHELL and Claim 3 Month Extra FREE