Meet Bruce and Margaret Hill WWOOF Australia Host  for 6 years!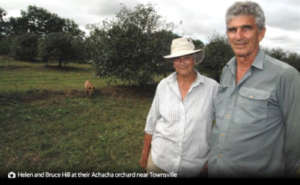 Bruce and Margaret Hill are the owners of Palm Creek Plantation which is  is located 45km south of Townsville on the Bruce Highway, at the base of Mt Elliot. They were the first commercial grower of the Achacha in the world, and remain by far the largest with 16,000 Achacha trees. we sell the Achacha fruit within Australia and overseas – to the UK, Germany, other European countries, Hong Kong and Canada. Many years ago Bruce had spent time in South America and happened to be on a Business Council in Bolivia consulting for the Sugar Cane Industry and someone had mentioned he should think about growing Achacha in Queensland…after much thought and perseverance Palm Creek Plantation was born.
The Achacha plantation is in the Burdekin Shire district, a district "built of liquid gold" – so called because the region is situated on a vast natural underground aquifer which is replenished with water from the mighty Burdekin River. As well as being one of the largest sugar cane producing area in Australia, the Burdekin is also the mango and melon capital of Queensland and has a multi-million dollar horticultural industry, grazing and prawn farming. With more than 300 glorious sunny days each year, miles of sandy beaches, unspoiled mangrove estuaries, unique wetlands, abundant birdlife, walking tracks and friendly country towns the Burdekin is a wonderful place to visit.
About the Achacha
The Achacha, known in Bolivia as the Achachairú, (meaning honey kiss in Guaraní, a local native language) is highly prized, having been cultivated for centuries in domestic orchards in the tropical lowlands of the Amazon Basin. It has not been commercialised internationally until now.  Many people think of Bolivia as being a high mountainous country in the Andes. That is true in the area around La Paz, the capital, and in one third of the country. However Santa Cruz de la Sierra, the country's largest city, is located in the tropical lowlands, home to many wonderful exotic fruits and vegetables including the Achacha.
The Achacha is renowned for rich antioxidant content. This along with its unique nutrient composition, folate, potassium and vitamin C makes it an excellent addition to your fruit bowl. The skin also contains many nutritional content.  The Achacha Thirst Quencher made by infusing the skin, will give you a healthy dose of betacarotene, hydroxycitrate acid (HCA), arginine and other minerals. Being low in sugar – what could be better for you?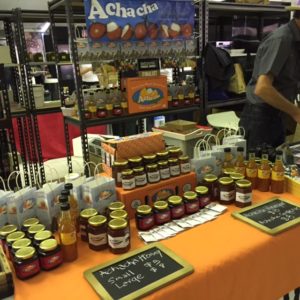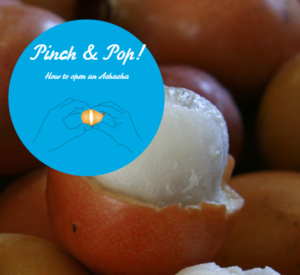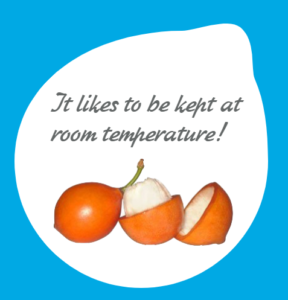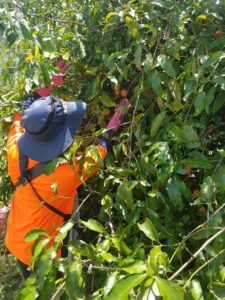 What Farming Methods do you use?
We use Bio-dynamic methods
What Skills can WWOOFers learn on your Plantation?
Organic practices & techniques, Biodynamic practices & techniques, Permaculture design practices & techniques, Propagating, Soil conservation, animal care and general garden maintenance
A MUST Watch Video  "The Chase"