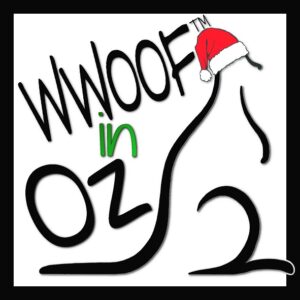 "My first WWOOFing experience, and now all the other ones to follow have a lot to live up to. Upon arriving I already knew I was going to like it at The Haven Bucca, within a day I knew I didn't want to leave. I learned so much and experienced so many different skills, (syntropic farming, log splitting, bamboo removal, making charcoal for the gardens, driving the tractor, being trusted to drive the tractor was a real pleasure for me, morning and afternoon feeding routine for the chickens and ducks, painting solar dehydrator) Just a few of the things I did. Pam & Pete involved me in every aspect of their lives. It was such a wonderful experience, I most certainly never went hungry as the food was so tasty and so good my morning cuppas have never been the same since. I miss the menthe mint and lemongrass. Thank you for a great time, Pam & Peter. Thank you for involving me in your faith and one day would love to come back and spend some more time at the Haven Bucca".  By  Mature WWOOFer Brendon C 
"We still can't believe what happened to us as hosts: During the two weeks of Jeremy's stay, he transformed our vague dream of opening a farmgate café into a thriving business by putting in place all necessary procedures to organise the café. He also taught us how to use every byproduct of our goat milk to create all sorts of delicious cakes. Besides being a talented chef, Jeremy was keen and very helpful with any other tasks on the farm, such as gardening, animal work, etc. WWOOFer Jeremy was so easy-going, fun to be around, and loved by our children". By Host Victoire T
There is so much to LOVE with WWOOFing
Open Monday – Friday, real people to assist you!
Multiple Industries to choose from.
Safety – Host farms agree to our Guidelines, keeping you safe.
Complaints? WWOOF acts on all complaints ensuring your safety.
Access Organic hosts Australia-wide needing help.
Multiple Farming practices to choose from.
WWOOF during the day and Study Online in your Free Time
No experience necessary, just enthusiasm!
Live with locals – experience the real Australia.
EcoTravel reduces your carbon footprint.
 Accommodation supplied or bring your own.
Save money and extend your travel budget.
88 days sign-off in Bushfire areas!
WWOOF, operating in Australia for 40 years.
To preview hosts before joining, use the List search, you will be able to search hosts within each State and see their basic profiles, to give you an idea of the types of experiences you can look forward to as a WWOOF member.
Are you ready for Christmas? We are offering

50% OFF Use Code:

CHRISTMASJOY