Meet Peter and Jenny who have been WWOOF Australia Hosts for 20 years and our only Organic Rice Farmers!
They believe organic farming is about achieving harmony with the environment.
They have 500 acres of Certified Organic mixed irrigation farm and have been farming organically for more than 27 years. A further 250 acres of their farm has been preserved as natural bushland with kangaroos, echidnas, goannas & plentiful bird life.  Most of their rice is milled & packed on the farm and they also make and sell rice pop cakes.
Activities available include fishing, kayaking in nearby river, bike riding, bush walking & visiting wineries & local National Parks whilst on their stay WWOOFing. Then you WWOOF on their property you will do general farm maintenance, help with sowing & harvesting rice (April), weeding, sheep work, woodcutting, vegetable growing, feeding chickens and collecting eggs, straw-bale building, help with milling, packing & selling rice and rice cakes at farmer's market
They use no pesticides or artificial fertilisers but instead use long crop rotations, sheep grazing and legumes to promote soil fertility. They also use probiotics to increase soil health and enhance the quality of their rice. The probiotics are made using ancient Japanese techniques combining beneficial bacteria and fungi to produce a type of soil yogurt which is applied to the whole farm. Because of this treatment they use no tillage to grow their rice and have a smaller carbon footprint.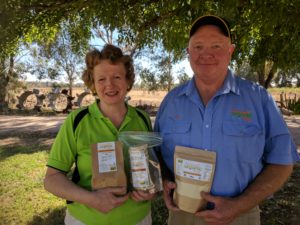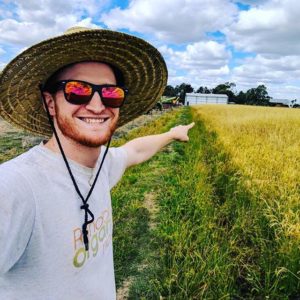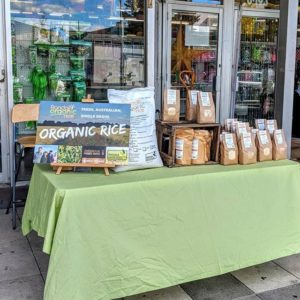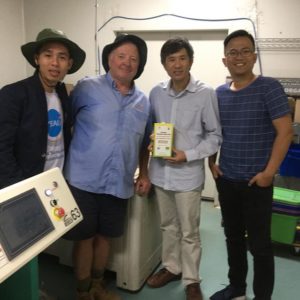 ​Peter, whilst still working with his father, Tom Randall, minimised chemical use in the years up to certification. Both father and son developed a disliked for using harmful chemicals in farming because of the health problems caused by them.
Their Story:​
Peter lost a close friend to lymphoma at age 18, and has lost many friends to cancer since, fueling his concern for the health of his young family. Peter had heard about organic farming and agreed with its philosophy and became certified well ahead of the current trend.
​Over the years Peter has been doing things differently and has observed the improved ecology between his and conventionally grown crops. Ancient looking crustaceans, fish and birds all grow in organically farmed rice as it provides habitat for native animals making it a more environmentally responsible use of the water from the Murrumbidgee River.
Peter's next dream was to sell his own organic rice. But this was not legal under Australian rice marketing law; the NSW rice marketing board controlled all rice grown in NSW. Peter could have had his rice confiscated if he attempted to sell his produce at the price he wanted and to whom he wanted. He did receive a small premium on his rice but well below what he believed the market would pay. This slowed the Randall's farm progress.
Then the drought hit. Beginning around 2001 rain levels over the catchment and the Murrumbidgee irrigation area itself dropped to record low levels for 10 years. Peter only planted one organic rice crop during this period, the family survived by raising and selling Dorper lambs. The irrigation system kept water in the Murrumbidgee River unlike the previous bad drought in which the Murrumbidgee dried up. It provided water for pastures to feed livestock, other crops and some rice was grown in the area.
Just after the youngest son of the Randall family moved away to study, clouds began to form and the drought broke in 2011! The area came alive again and rice farming is flourishing. Also NSW government abolished the domestic marketing law, freeing farmers to sell their rice within Australia after obtaining a licence. This was their chance to get a head and make a difference.
It had been over 20 years since Peter began dreaming of starting his own rice enterprise. Finally, Randall Organic Rice was launched. A small mill was built with the first bag being sold in mid-2011, 22 years after becoming organic.
Rice cakes had a bad name in Australia and they have worked hard to change that.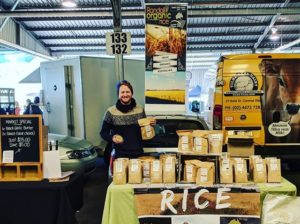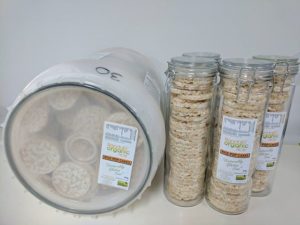 Peter at Delicious magazine 2018 Produce Awards in August.
We won a state award for our brown jasmine rice.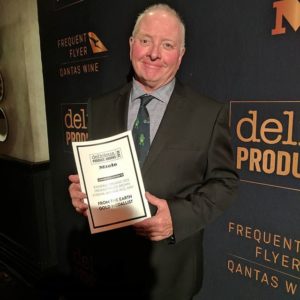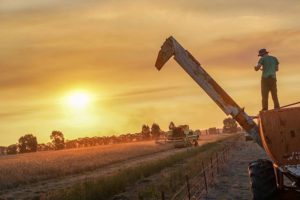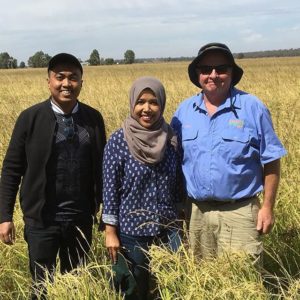 Because we have low to no inputs into our organic rice, it is a negative carbon footprint crop. How farming should be!
So if you would like to visit Peter and Jenny https://wwoof.com.au/members/ni094/ and you're not a WWOOF member, Join WWOOF Australia today https://wwoof.com.au/join-wwoof/