Meet Marie Clerc, from Haute savoie, near Annecy in France, who has recently been WWOOFing in Australia, so we thought we would reach out and find out how her WWOOFing experience was going.
A little bit about Marie: 
I have been a florist for 15 years, in my current job, I'm responsible for a florist in a shop at Geneva, Switzerland. I am very concerned about the world of plants and respect for nature, and i love all animals. I am very manual and like to learn how to do things. I am fast and efficient. Made bread,
Why did you choose to use WWOOF Australia?
This idea was coming at me easily. I love working and helping, and I wanted to meet and learn the life style in Australia in the bush.
Have you been a WWOOFer before?
I haven't WWOOFed before, this is my first experience. But I want meet more farmers.
How long will you be in Australia?
Currently, I have finish my three months in Australia, but I want return quickly for a working Holiday visa.
Three month is very so short.
What have you learnt to date WWOOFing?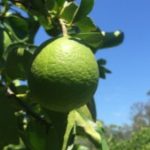 With Natalie and Glen, I was learn build a park for the cows, painting wall, create paper flower for decoration, nourish animals, picking fruits, and a lot of things again.
And especially to enjoy the good times.
What have you learnt about yourself?
I have learnt is the self-confidence, and trust in other peoples.
Are you travelling by yourself and have you met any other WWOOFers on your travels?
I am travelling by myself. I haven't meet any other WWOOFers yet. 
What states are you going to travel to and where have you been?
I'm travelling at a long the east coast.
From Melbourne to Cairns. But 3 months was so short for meet other people's
Would you recommend WWOOFing to your friends and why?
Yes, I recommend WWOOFing to my friends because I think is a wonderful way to discovery the world and the beautiful people's.
Reviews from WWOOF Hosts, Natalie and Glen:
Marie was a wonderful addition to our farm! Very easy to communicate with and took on every job with easy and enthusiasm! From fencing to feeding animals and painting walls… every job was greeted with glee and completed with care! I would have no hesitation in recommending her to any other property. Marie is polite, respectful and happy to fit into any situation. We wish her the best for the rest of her travels and would gladly accept her back!
If this sounds like you and you're not a member yet, JOIN WWOOF Today! https://wwoof.com.au/join-wwoof/