Meet Cowsnest Farm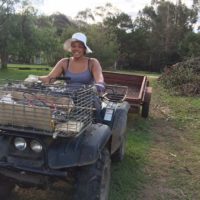 You have been a WWOOF Australia Host for over 20 years, why did you choose to be part of this program?
Cowsnest has been welcoming people from all over the world to be a part of the community farm since 1975 when Cowsnest first started. So when the WWOOF Australia started it was a natural development to connect more people with the farm and rural Australia. Cowsnest became a wwoofer host late 80s or early 90s, I think. It would be easy for me to find out the exact date or year. Then there's been a few breaks depending on who's been living on the farm.
Harry, who's been a resident since 1983 has a good saying "why would I travel the world? The world comes to me"
What is it like living where you do?
Staying for long or short amounts of time at Cowsnest is entering a life where all aspects of conservation surround you. It is all about giving to the community, the trees, the plants and the animals. In return you get beautiful vegetables, heavenly milk and many many skills.
Three simple rules that were defined many years ago seem to be the key to a healthy climate: Take responsibility for any task you take on. Clean up after yourself and return tools and equipment.
Today there are people of all ages with different backgrounds and nationalities living at Cowsnest. Everyone contributes in the way they are best able, and all with the understanding that Cowsnest is a working farm, a place for education about conservation in everyday life and somewhere to live with nature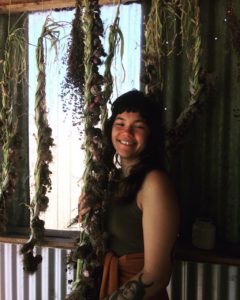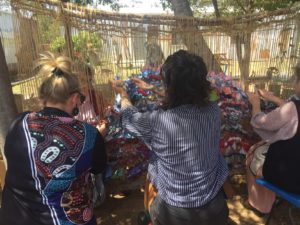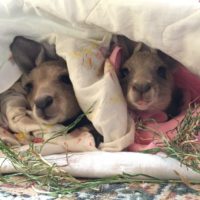 What is the main Airport I fly into to visit you?
There are buses going from Canberra, Sydney and Melbourne to Bega. The closet airport is Merimbula, 30 minutes away.
Describe your Sustainable Lifestyle and why you chose to live like this.
All domestic animals at Cowsnest serve multiple purposes, including the humans.
As a human living at Cowsnest you are responsible for caring for the land but also for your own waste and food production. Residents of Cowsnest give back to the land what it is giving to them. The energy received from eating the food grown at Cowsnest becomes fences, and cheeses and lovely compost. It provides energy to milk the cows, welcoming for new people and teaching about how humans can live in harmony with the natural world. By always being reminded that this is the land of the snakes, the kangaroos, the possums, the microorganisms and many more, humans at Cowsnest stay humble to what is given to them when they care for the land based on values that go far away from money and material profit. No one owns the land, it owns us.
'Cowsnest' is a community farm, conservation area & wildlife refuge, and is affiliated with Potoroo Palace (Native Animal Educational Sanctuary). There are several occupied houses on the 830 acre property. There are milking & beef cows, goats, pigs, gardens, orchards, chickens, ducks, preserving room, big machinery shed and a wildlife sanctuary. The first Sunday of every month Cowsnest provides a café at the local market. Every Tuesday is Community Day where people of all ages gather to work on the property and meet in the large communal shed.
Every day work includes gardening, preserving cheese making, milking cows, fruit picking, cooking for the market. Leisure time can be spent bushwalking, observing wildlife, social gathering or reading in the communal library.
What would be a typical day for a WWOOFer?
 Feeding the chickens and ducks in the morning. Even the pigs if you like big cuddles. Then maybe some breakfast or a cup of the in the community shed. After that a couple of hours of the days task depending on what season it is and what is needed and what the wwoofers is keen to do or learn. It could be weeding, cooking, mulching, and planting.
Where do WWOOFers get to stay?
We have room for 4 WWOOFers, they stay in a seperate hut behind the red house, which is in the communal area. Cowsnest provides the food for WWOOFers to do their own cooking in the communal kitchen.
What is the weather like and what is the best time of the year to visit?
Spring and autumn is always nice, not too hot and not very cold.
Is there any particular piece of clothing if any you would recommend be the number one item to bring with them?
Good shoes and a warm jumper. And please do not forget a hat (but if you do we have spare ones).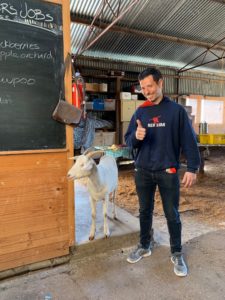 What will you teach WWOOFers during their stay with you?
 How to live with nature and how to try to make ethical decisions in everyday life by reducing waste and to be resourceful with what you got. Organic practices & techniques, Permaculture design practices & techniques,
Gardening Composting, Propagating, Pruning, Soil conservation, Mulching, Wild Food Foraging, Animal care, Dairy, Mechanical, Using & caring for tools, Fencing, Cheese making, Bread making, Fermenting Foods  Preserving & processing food.
What has been the best memory to date an experience you have had as a Host with WWOOFers?
It is not my own story but a legend at Cowsnest. A Japanese wwoofer named Yoshi ended up as the star in a local play as Elvis Presley!
Do you have any advice for Hosts or WWOOFers to help them make the most out of WWOOF?
Try to have an open mind towards each other that seems to be the best way to get the most valuable exchange.
Would you recommend being a WWOOF Host and why?
Yes! It makes our farm and community be more alive and a part of the world. It is also a good way to help our environment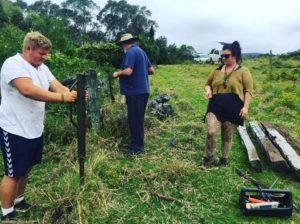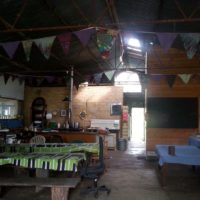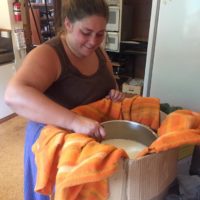 Testimonial:
Hi had the best experience of my life in Australia, in Cowsnest farm !
I met wonderful people, very kind whose made me happy !
Special thanks to Kara, Anna and Craig !
I learned how to plant a baby tree, gardening, feed chooks, pigs and cows.
I milked for the first time of my life and we cooked several delicious dishes.
I also met 2 others Wwoofers who became friends and with whom we went back to Sydney.
I'll go back to Australia and visit Cowsnest again !
Thank you for this amazing wwoof !
Best regards
Hélène
If you would like to visit everyone at Cowsnest Farm, but you're not a member, then don't miss out! Join Today https://wwoof.com.au/join-wwoof/
We are offerring $10.00 off mens T-Shirts for all WWOOFers and Hosts who join our program https://wwoof.com.au/product/wwoof-australia-mens-short-sleeved-t-shirt/   
Just type in Code: WWOOFTEE