By Lynette Vint
Meet WWOOF Australia Hosts, Brett and Lisa
Brent and Lisa are building a hempcrete house in Hazelbrook, a village in the mid Blue Mountains, with lots of friends and family to call on for help, but it's a big job, and we need all the help we can get!
The building site is next door to our home, which we hope to open to WWOOFers keen to learn, and to become a central part of redefining what sensible, sustainable housing should look like! You'll be sharing our home with our ridiculously affectionate (once you get to know her) Kelpie cross, Thea, at least two chooks, possibly a brushturkey, and a wide variety of other native fauna.
We are close to town and the train station, many magnificent local walks, and the Lawson pool (with a spare car too), and are only 20 minutes away from Katoomba, the thriving hub of the Mountains.
We need reliable helpers to join us in providing support to our broad network of friends and vollies to mix, pour and pack the Hempcrete to form the walls, and who are interested in experiencing life in the Blue Mountains!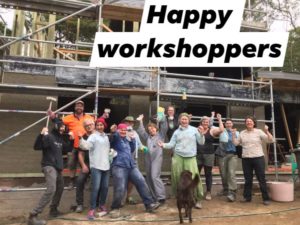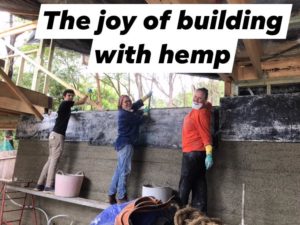 The final push is on to raise the walls of the North Pavilion, hoping for a big team effort to smash our persons best of 37 and set an enduring Australian record of 50 mixes of hempcrete in one day!!
HEMPCRETE BUILDING WORKSHOP this Australia Day long weekend. Join us at Hazelbrook in the Blue Mountains on 25-27 January 2020 to learn how to build with hemp while constructing Lisa and Brent Hoare's home. A very successful hemp building workshop was held in early January to build the first section and now you have the opportunity to participate in the whole wall building process from bottom to top as we complete the second pavilion of their home.
So if you would like to join Brett and Lisa reachout to them through the messaging system within your Profile today https://wwoof.com.au/members/hazohemphouse/
Not a member? Join Today https://wwoof.com.au/join-wwoof/  Type in Discount Code:  hazohemphouse and Claim 2 Month Extra FREE