Here in the WWOOF Office we make our own Kefir and thought we would share this great product with you all.
Kefir is a fermented drink, filled with probiotics which is made by combining special cultures, called kefir grains, in a liquid such as milk, coconut or almond milk or sugary-water. Drinking kefir helps boost your immune system, improves your digestion, helps regulate your cholesterol, and has many other health benefits.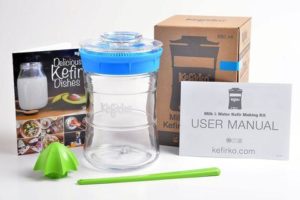 The Kefirko Kefir Maker is elegantly designed to look beautiful on your bench top. With two different purpose-specific lids it enables easy, mess free kefir-making at home. Put the kefir grains in to water or the milk of your choice according to type of grains you are using and allow the content to ferment for 24-48 hours.
The builtin strainer and airflow control enables optimal fermentation conditions and simplifies the procedure of separating the grains from the kefir.
Ideal for making of milk kefir, water kefir, coconut water kefir, coconut milk kefir and almond kefir.
European Designed And Made
Jar Size: 848 ml
1 KEFIRKO MEGA KIT INCLUDES*:
1x Kefirko, 1x swizzle stick, 1x printed booklet with 30+ recipes , 1x user manual, 1x squeezer
1 x Packet of Fresh Kefir Grains (Choose from Milk Grains or Water Kefir Grains)
1 x Packet of Kefir Growth Premix ( Milk Kefir Growth Premix or Water Kefir Growth Premix)
Kefirko Kefir Maker Kits, Kefir grains, as well as a huge range of fermenting supplies and equipment are available from Nourish Me Organics
If you love making fermented cheese, there is also a Kerfico Cheese maker available.