26.07.2018
IFOAM – Organics International welcomes the decision of the European Court of Justice (ECJ) that new breeding methods such as CRISPR and other gene editing techniques are forms of genetic engineering, and that products therefrom are indeed Genetically Modified Organisms (GMOs) that should be regulated as such under existing EU legislation.
In its press release , the ECJ considers "that the risks linked to the use of these new mutagenesis techniques might prove to be similar to those that result from the production and release of a GMO through transgenesis" and "That the GMO Directive is also applicable to organisms obtained by mutagenesis techniques that have emerged since its adoption".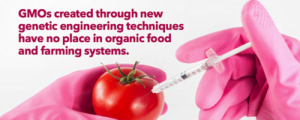 A POSITIVE RESPONSE FROM THE ORGANIC MOVEMENT
Jan Plagge, the President of IFOAM EU, said: "The confirmation by the European Court of Justice that new GMOs will be subject to traceability and labelling is good news for organic breeders, farmers and processors but also for all European producers and consumers as it brings clarity and will ensure the freedom to avoid such GM products and the protection of the environment from the potential risks of these new technologies."
"The European Commission cannot delay action anymore and now has to ensure that the EU legal framework is properly enforced by Member States. The Commission should immediately launch a research project to develop detection methods that will complement the traceability system, to ensure an adequate segregation of these new GM plants and to prevent the contamination of organic and conventional GMO-free food and feed production in Europe", added Eric Gall, Policy Manager at IFOAM EU.
THE ECJ DECISION PERTAINS ONLY TO EUROPEAN UNION MEMBER STATES
While IFOAM – Organics International applauds the Court's decision, we also stress how important it is that other governments follow suit and impose strict controls on the development and release of any novel organisms and their products. We call for globally applicable rigorous risk assessment and risk mitigation protocols that require full transparency, traceability, and accountability for all activities undertaken with respect to genetic engineering.