By Lynette Vint
Meet WWOOF Australia Hosts Jeanette and Simone Renton from Chowan Creek, NSW. We caught up with them and asked the following questions.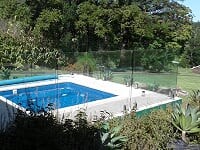 How long have you been a WWOOF Australia Host and why did you choose to be part of this program?
We have been WWOOFer hosts on our previous property in Ocean Grove for some years. We have since moved to our idyllic property in Chowan Creek, and are now ready to engage WWOOFers here also. We chose to be part of the program to share our beautiful property with those who are willing to learn and work while enjoying a mountain retreat lifestyle.
What is it like living where you do and on Shantipur? (Place of Peace)
We love living at "Shantipur" (Place of Peace) where we have magnificent views of Mt Warning, watching it in action as "The Cloud Catcher" as it is known. We are only 5 mins from the picturesque town of Uki,https://www.ukivillage.com.au/  one of the friendliest tiny towns in Australia.
What is the main Airport WWOOFers would fly into to visit you?
Both the Gold Coast Airport and the Byron Bay Airport are only about 3/4 hour away.
Describe your Sustainable Lifestyle and why you chose to live like this, are you fully self sustainable?
We enjoy a fairly self sustainable lifestyle. We have eleven underground springs feeding our fresh water bore and we have plenty of solar power. We have a new orchard of exotic fruit trees, and a greenhouse for our vegetables. We love knowing where our food comes from and that it is organic, contributing to our good health.
What would be a typical day for a WWOOFer?
On a typical day you would start work early in the morning to beat the heat of the day, then have lunch and the rest the day off to cool in the sparkling pool, or go sight seeing, bush walking, to the beach or just relax etc.
Where do WWOOFers get to stay?
You would be staying in a renovated 100 year old cabin with plenty of character, and also modern creature comforts, it is fully self contained, and has a large shady veranda.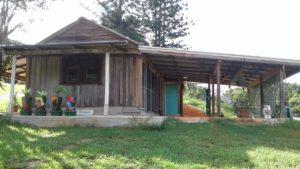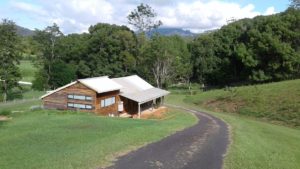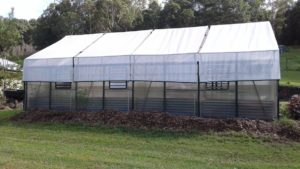 What is the weather like at the moment and what is the best time of the year to visit?
We enjoy a sub tropical climate, usually it is hottest from January until the end of March. Most of the rest of the year it is still very pleasant weather. You must wear a good shady hat when outdoors, and good working boots.
Are there any Conditions on your Property WWOOFers need to know about before they visit you? (example diet)
We are all vegetarian and do not smoke or take alcohol. We would prefer you to follow suit while you are here. We will provide wholesome healthy meals.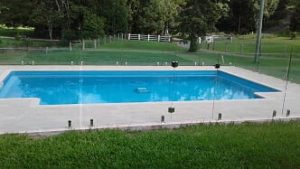 What will you teach WWOOFers during their stay with you?
While here, we will teach you about basic gardening duties, painting and staining of timber, cleaning of the pool areas etc. Along with sharing life skills!
What has been the best memory to date an experience you have had as a Host with WWOOFers?
Our best memory relating to a WWOOFer to date was a lovely Dutch lady who was asked to prune branches off the ti trees on the sand dune. She chose feature branches to remain in place, and pruned around them so that the finished effect was very creative and striking. She left behind a fine legacy.
Do you have any advice for Hosts or WWOOFers to help them make the most out of WWOOF?
We would advise you to ask lots of questions so that you learn as much as possible while you are with us. There is no thing as a dumb question, just dumb mistakes! We would recommend being a WWOOF Host as you have the opportunity to share your knowledge and skills with a younger generation, and the future of this wonderful planet is in their hands also. We look forward to hosting you, and hope that you will enjoy staying at Shantipur as much as we do!
So if you would like to visit Jeanette and Simone Renton, reachout to them through the messaging system within your Profile today https://wwoof.com.au/members/jeanetterenton/
Not a member? Join Today https://wwoof.com.au/join-wwoof/  Type in Discount Code: Shantipur  and Claim 2 Month Extra FREE