Fancy a spot of WWOOFing over Christmas? Did you know that some WWOOF hosts are happy to host WWOOFers over the Christmas/New Year period? One such host is Benno at Coolabah Equine.
Coolabah Equine is a family friendly organic horse property established in 2018 in Fiddletown, NSW – a picturesque, semi-rural suburb about 40km north of Sydney's CBD.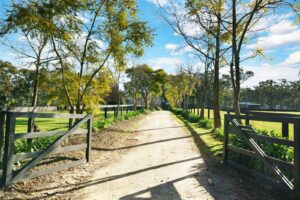 Benno says, "Australians love to celebrate, and Christmas is no exception. December days are usually hot here in Australia, and people celebrate Christmas in various ways. A dip in the pool, a day on the beach as well as exchanging gifts. At Coolabah Equine our family tends to enjoy big lunches with all the trimmings, which could include barbecues, cold meat, seafood, and some outdoor activities. If it gets too hot, a dip in the dam will cool you down. We love to decorate our house with Christmas trees, lights and ornaments, and usually enjoy a champagne breakfast whilst opening gifts on Christmas day. Christmas day itself is a day to relax, unwind and enjoy the festive season on our beautiful property."
To find out whether a host is welcoming WWOOFers over Christmas and New Year, check the Availability Calendar in their Host Profile.