WWOOFers make it happen!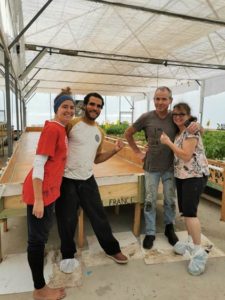 John and Natalie live in Forest Grove W.A. their property has an interesting history, it started as a group settlement location after WWI then a dairy farm, then an organic winery, then the home of a rich doomsday prepper. In 2017 four related families got together and purchased the property with the intention of it being a lifelong purchase to be handed down to all descendants.
John became a certified Aquaponic farm designer and has now built a large system in the greenhouse for the purpose of selling products at the Margaret River market and for the purpose of sustainable living for all families.
The aquaponics project has been a huge success in large, part of this has been due to the efforts of all the volunteer WWOOFers who have helped with building grow beds, tanks and even monitoring systems. The 400m2 greenhouse is now full of grow beds and fish tanks making it already the biggest aquaponic farm in Western Australia.
The Set Up
Aquaponics is a rapidly evolving and growing method of organically growing food. It is a combination of aquaculture and hydroponics. There is no discharge from the system, nothing goes to waste and the water is fully recycled. The only input is fish food. Bacteria and worms in the media beds convert fish waste into a form of nitrogen that can be used by the vegetables, they remove the nutrients and return clear filtered water back to the fish.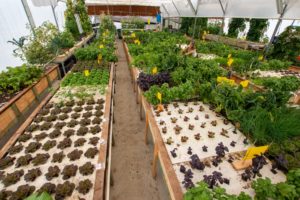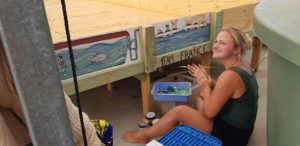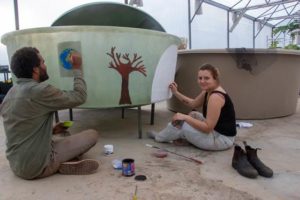 We use Ladybugs as a form of biological control over pests like aphids, we also use natural sprays such as Neem Oil. The wicking beds are used to grow root crops and we are building worm farms to recycle all green waste from the greenhouse.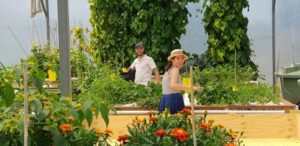 The greenhouse we call the dreamhouse because it is not just an amazing garden. It is a gallery of words and images painted onto the grow beds and tanks by each volunteer as a mark of their contribution and time shared with us. These are all precious to us. They are beautiful and they inspire visitors who come to see a different way of growing food and a different way of communally building the aquaponics project. Anyone can use aquaponics to grow food, even in a small space. A family of two adults and two children could grow all the food they need throughout the year with an aquaponic system with as little as 23 square metres of grow bed area. It works best with fish that are fed with commercial pellets, but it can also be done with fish like Jade Perch that will eat pretty much anything that a chicken would eat including food scraps. Costs can be minimised by using cheap IBC containers as fish tanks and blue barrels for filters. A simple home system would at a minimum have one fish tank, one filter tank, one gravel bed and one deep water culture bed. The gravel bed is where the worms and bacteria build up, that perform natural biological filtration. The only crop that does not grow well in aquaponics is a root crop. For carrots, beetroot, radish, and potatoes it works well to combine one wicking bed with an aquaponic system but to use the fish water to irrigate it. We have incorporated worm farms into our system so all the nutrients in green waste are not lost. The worm tea is poured straight back into the grow beds.
Aquaponics has many environmental advantages over traditional farming. Low water consumption, zero synthetic chemical and pesticide use, low land area requirement and (if using solar) low CO2 footprint. Our system runs entirely on the rainwater that falls on the greenhouse roof and is so productive that we can let other parts of the farm return to nature to regenerate. We have not yet become certified organic because of the difficulty finding organic fish food to feed our rainbow trout. But in many of the above respects you could say we are better than organic. In future we plan to experiment with a black soldier fly project to use BSF maggots as fish food. For a family looking to secure their own supply of pure healthy chemical free food, an aquaponic system combined with a wicking bed is a perfect consideration. You can grow all the protein, vegetables and staples you could ever need.
If you would like to volunteer with some of our hosts and learn about various industries and their farming practices such as Aquaponics, Permaculture, Organic, Bio Dynamics, and Regenerative farming just to name a few then reach out today.
We are celebrating WWOOFers week and acknowledging Volunteers all around the world, we couldn't do it without you!
Discover the REAL YOU  wwoof.com.au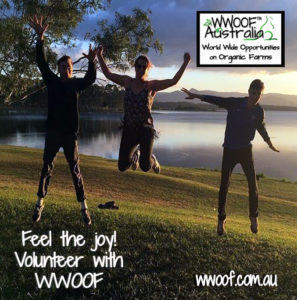 Written for Grass Roots and Published Feb/March Issue 2021: grassrootsmagazine.com.au/
Grass Roots is Australia's go-to magazine for those who wish to live a more productive and fulfilling life. Articles in the magazine are written by diverse authors who offer a wealth of experience that can be relied upon. Day to day experts share achievable projects to increase self-reliance, save you money and improve your lifestyle.(sourced Grass Roots Website)