Meet Sam, Tim and Teagan from Cultivate Farms.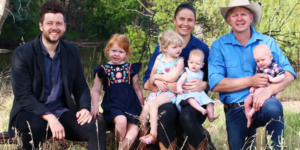 Tim and Tegan Hicks are aspiring farmers; raising 50 head of cattle on agisted land around their district. Together Tim and Tegan have started Hicks Country Beef, which is a 100% grass fed beef business where they sell direct to customers in the Albury area.
They always wanted to own their own farm but as they did not inherit Tim's family farm, they knew it would be almost impossible for them to buy their own. Sam Marwood who grew up on a dairy farm in Central Victoria and has spent 12 years working in environmental policy for the Victorian Government, together they have created a platform for Investors and Aspiring Farmers across Australia, this lead the pathway for the birth of Cultivate Farms.
Cultivate Farms delivers;
Your Chance to Own Your Farm
You want to own your own farm. You have the skills, but you can't afford it.
You sleep, dream, and breathe your passion of owning a farm.
You're a farm entrepreneur, on the journey to farm ownership.
Cultivator, an initiative of Cultivate Farms, is a farmer incubator, matching the best next generation aspiring farmers with farm investors to own and operate a farm together.
Cultivator has delivered a farm ownership outcome for an aspiring farming family in 2017.
Now in 2020, Cultivator has that same farm investor ready to back the best aspiring farmer to co-own a farm with them
If you meet the selection criteria and are willing to invest $4,000 plus GST to be part of the program, you have a 1 in 10 chance of owning your own farm.
Let's get you farming!
Reach out to Sam Marwood today to discuss this further https://www.cultivatefarms.com/contact
They have 5 farmers signed up for Cultivator. 5 spots remain , Applications close 15 November