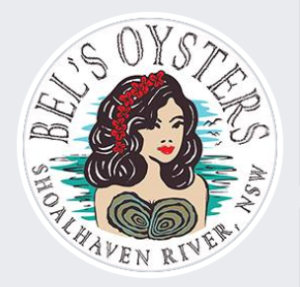 Meet Annabel and James Williams from Bel's Oyster Farm
Annabel and James became WWOOFer hosts to share their business with WWOOFers and like minded people, and love meeting people from around the world. Having lived in Africa and South East Asia and experienced other cultures, they always love the opportunity to give back and share their beautiful part of the world with people from overseas and other parts of Australia.
Bel's Oyster Farm is a Commercial Oyster Farm located amongst a group of oyster farms on a canal where they have their work shed, self-contained cabin and wharf. The oyster leases are located a short boat ride away near various bays and islands in the Crookhaven River. The estuary provides many opportunities to see marine life and birds and the surrounding area is home to kangaroos and other native wildlife.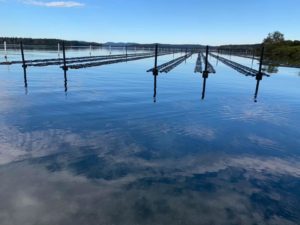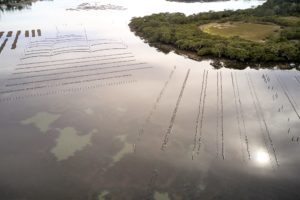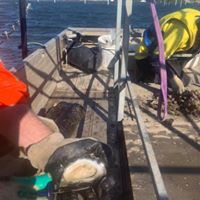 Comprising a land base and 10 hectares of water leases, the farm is located in popular holiday destination Greenwell Point in a friendly co-op of oyster farmers. The Crookhaven River is part of the Shoalhaven estuary, an area of outstanding natural beauty on the NSW south coast, 2.5 hours south of Sydney.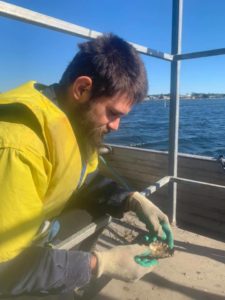 WWOOFer tasks include assistance with Aquaculture practises including the cultivation and harvest of Sydney Rock Oysters. General farm assistance includes both land based and water based tasks. This farm offers an exciting opportunity to work on the water in a calm river estuary with an experienced boat operator. WWOOFers perform a variety of tasks at the farm including bringing oysters from the leases to shore for processing or harvesting. Other tasks include putting together new oyster baskets, installing new poles on leases and general maintenance and tasks on the land base. The work is varied but best suits enthusiastic workers with good energy levels.
In their spare time, the WWOOFers can take our kayak around the river, surf at nearby beaches or go on a hike through bushland with amazing views and wildlife. For those without their own transport we have bicycles to ride to the local shops at Greenwell Point. The nearest town, Nowra, is a 30 minute bus ride and offers a cinema, cafes/restaurants and shopping.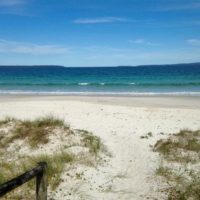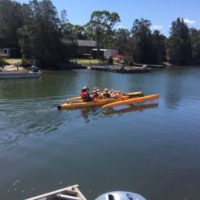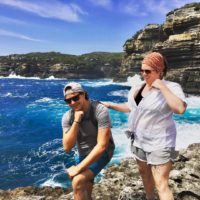 The farm is accessible by train from Sydney to Bomaderry train station, where we will pick you up from the station and take you to the farm. If you are coming from Melbourne by train, we can pick you up from Moss Vale station, which is about 1.5 hours drive from the farm.
Our WWOOFers have enjoyed being part of small community of oyster farmers at Greenwell Point and have made new friends in the local community. We have been very blessed with the wonderful people who have stayed with us and love to keep in touch with them as they continue their travels.
Reviews from WWOOFers:
My partner and I stayed with this amazing family for seven weeks. We had a great experience learning the ins and outs of oyster farming. James, Annabel and Phoebe welcomed us with open arms into their family, even had us over for a traditional Australian Christmas. The town is a little isolated but with a very friendly community. The work on the farm is enjoyable and always with lots of laughter. They were incredible hosts always making sure we had everything we needed and taking us on many explorations. If you are looking for a true Australian experience this is the spot to be. A little tip if you wanna have a few pints the hotel will pick you up and drop you off back at the farm. The self contained unit is perfect and a place we loved calling home. We really are appreciative of the time we spent on the oyster farm and encourage WWOOFers to give it a go! Thanks again guys! Missing you all and all the little oysters!
Really nice family. I was welcomed so well, ended up staying way longer than I thought. Town is small and a bit far away from city but everyone is nice but I made some good friends between the oyster farms. Sometimes work is a bit repetitive but always in a friendly mood with music. The self contained cabin is good, everything needed is here and the family is close in case needed. Thank you James, Annabel and Phoebie ! It was a really good experience
The great Oyster shuck!
The legendary Sally McLean (4th from the left) of Jim Wild's Oysters, Greenwell Point outshucks everyone at the Barclays Oysters event. #oystershucking #nswoysterconference

Posted by Bel's Oysters on Thursday, August 8, 2019
If Shucking Oysters and learning the Industry is for you and you're not a WWOOF member yet, Join WWOOF Today! https://wwoof.com.au/join-wwoof/