Introducing Mt Nebo Plant Spirit World
This property is the home of Spirit of Woman Australian Wild Flower Essences. We harvest both cultivars and weeds for plant medicine. A 5-acre property, we keep it clear of unwanted weeds and underbrush.
As a woofer you will need to be aware that this property will grow on you!! It has a very special feeling that comes about due to the work we do here. We make natural plant medicines that contribute to well-being and health. If you are a health conscious person you will love being here and you will probably go away feeling better that when you arrived:)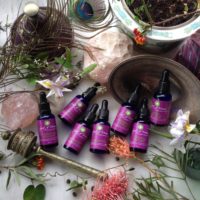 SKILLS WWOOFers can learn;
Organic practices & techniques, Biodynamic practices & techniques, Permaculture design practices & techniques, Gardening, Composting, Propagating, Pruning, Soil conservation, Mulching, Wild Food Foraging, Fermenting foods.
For your recreation there are numerous delightful rainforest walks sited nearby as well as a groovy local cafe, and a resident massage therapist, always willing to work on tight muscles and tired bodies. At the foot of the mountain is the Enoggera Reservoir, a beautiful natural swimming dam open to the public. Brisbane is a short bus-ride away, with all of its attractions – arts and culture, bars, Mt Cootha Botanical Gardens and Southbank with its splendid array of eateries. To the north is the Sunshine Coast, an easy train trip away and to the south the Gold Coast, again accessible by train or bus. This south-east corner of Queensland is renowned for its equable climate, splendid forestation and fun-filled tourist activities. En route to the Gold Coast is MovieWorld and Dreamworld, easily accessed from Brisbane by bus or train. Certainly this little neck of the woods is a Paradise waiting for you to explore with safety and ease.
If you are a WWOOFer and would like to learn all about Australian Wild Flower Essences, visit our Host Annie and find the REAL YOU https://wwoof.com.au/members/annie123/  Not a WWOOFer? JOIN NOW https://wwoof.com.au/join-wwoof/