Meet Luke and Catherine Hamson, through chasing their dream found their "Hamlet" (a village without shops) and planted their macadamia orchard in 2008 after Luke's last tour to Afghanistan. Even before they had thought of pigs the farm was christened "Hamlet" and now true to its name Hamlet is the home of many gentle heritage Berkshire pigs.​
Inspired by the local Italian culture in Waroona and the difficulty in sourcing tasty pork locally, Luke extensively researched different breeds of pigs and found a farmer in Western Australia that bred Berkshires.  After a few years of breeding in 2014 Hamlet Pork began with deliveries to family and friends in Perth and Mandurah and all over the South West.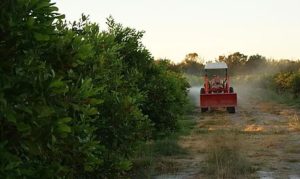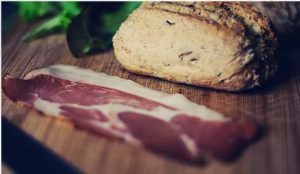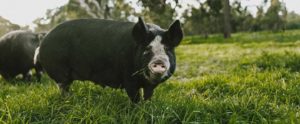 Luke was raised on a wheat and sheep farm near Lockhart in New South Wales and after his family moved off the farm he always hoped to return to that life.  Luke served more than 15 years in the Australian Army and 6 years in the SAS Regiment in Perth.  Catherine was born and raised in Western Australia and has over the years also spent time in Germany and Italy learning their language and food.  Catherine enjoys spending time on the farm with their children and beloved Berkshire pigs and also divides her time between Hamlet Farm and her work as a commercial lawyer.
A little about Berkshire Pigs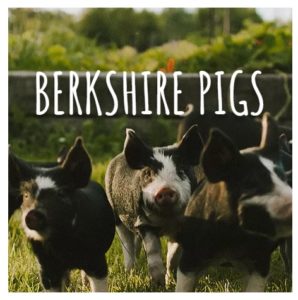 Berkshire pigs are a heritage breed which have not been genetically modified through years of commercial breeding.The flavour of the pork is not compromised to produce larger litters and leaner meat. Berkshires have a gentle nature and produce pork that is clean and succulent (unlike any other !). Berkshire pork is also known as the "Wagu" of the pork world due to the marbling in the meat which produces a much richer sweeter buttery flavour.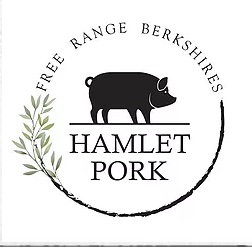 Skills WWOOFers can learn with Luke and Catherine:
Organic practices & techniques, Gardening, Soil conservation, Worm farming, Beekeeping, Mustering, Fencing, Handyman, Fermenting foods, Preserving & processing food, and Marketing produce!
About the area:
Pinjarra is a town in the Peel region of Western Australia along the South Western Highway, 86 kilometres from the state capital, Perth and 21 kilometres south-east of the coastal city of Mandurah.
Top Things to do in Pinjarra:
https://www.tripadvisor.com.au/AttractionsNear-g495076-d1367790-Pinjarra_Resort-Pinjarra_Western_Australia.html
Catherine and Luke love having WWOOFers and sharing their knowledge so check out their Profile today https://wwoof.com.au/members/hamlet/ 
If this sounds like you and your not a member JOIN WWOOF Today! https://wwoof.com.au/join-wwoof/