Meet Vicki & Allan Wight WWOOF Australia Hosts for 5 years!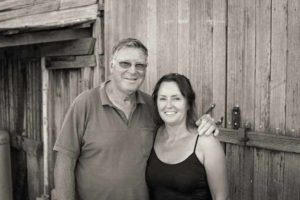 About us
We purchased Samaria Rose Water Farm in 2010 and since then it has been our labour of love. This stunning property in Victoria's north east had been designed and planted to permaculture principles and included a plantation of 3000 Damask roses (rosa x damascena) and a distillation plant.
We spent our first two years at Samaria Farm getting to know the property and finding a vision that set us on a path to producing one of the World's purest Rose Waters and high quality product oils, hydrosols, cordials, soaps and more.
Within two years of purchasing the property we were producing 100% pure Rose Water, essential oils and the less concentrated 'flower water' produced by distilling fresh leaves, fruits, flowers, and other plant materials. Known as hydrosols, these aromatic waters offer similar therapeutic properties to essential oils, without the high concentration.
Starting with Farmers Markets we began to sell our 100% pure Rose Waters and unique essential oils and hydrosols. The markets kept us away from the property we had grown to love, and we realised that the farm provided an opportunity, with existing buildings and views across the Samaria valley. We have now refreshed Samaria Farm to include a small store (renovated from the original garage).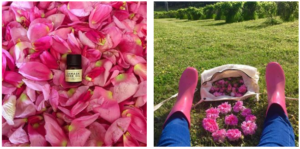 Every year in late October, this majestical rose farm blossoms  and comes to life!
In appreciation of their gratitude to produce one of the world's purest distilled Damask Rosewaters – 'Samaria Rose Water' they take joy in celebrating the commencement of the harvesting season, this year they are inviting everyone to step into their paradise and share an enchanting experience with them.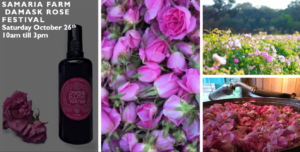 SATURDAY OCTOBER 26th 10am – 3pm
BRING YOUR FAMILY & FRIENDS, RELAX AND TAKE TIME OUT AND ENJOY THE SIMPLE PLEASURES OF LIFE, TAKE A STROLL AROUND OUR DEEPEST OF DEEP BEAUTY AMONGST OUR 2000 DAMASK ROSES
 COME AND RELAX IN OUR GARDEN, VISIT OUR ROSE-DISTILLERY & INDULGE IN THE OPPORTUNITY TO TAKE HOME A PIECE OF YOUR OWN SAMARIA FARM MEMORIES FROM OUR SIGNATURE STORE
WWOOFers have had the opportunity to share many incredible moments with Allan and Vicki and learn about all the processes involved in their business, so if this sounds like something you would like to do and your not a member yet?  Join WWOOF Today! https://wwoof.com.au/join-wwoof/