WWOOF Host Paul, Day's Walk Farm, Keilor, VIC
VM386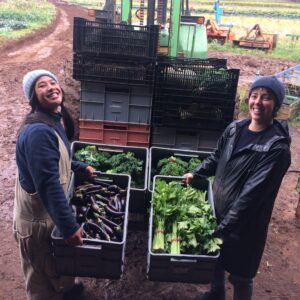 The WWOOF office caught up with Paul from Day's Walk Farm in Victoria recently. Paul began his WWOOFing experience in 2008 when he travelled to Italy and WWOOFed for a good 10 months. It was his keen interest in nature, permaculture and farming that led him travelling and then from his own WWOOFing experience overseas trajected him to become a WWOOF host himself.
The property where Paul WWOOFed in Italy was located just outside of Milan giving him the opportunity to independently travel to the city in his spare time and be able to explore the area on public transport. Paul valued this access as a traveler to the city and is now offering a similar opportunity to his WWOOFers here in Melbourne.
In 2015 Paul joined WWOOF as a host of his Certified Organic vegetable property, Day's Walk Farm, located in Wurundjeri Woi Wurrung Country which is 22kms from Melbourne's CBD and close to Tullamarine Airport.
Currently the farm produces a selection of Certified Organic seasonal vegetables supplied directly to restaurants and independent retailers in the CBD and the inner north of Melbourne and are also sold at the weekly Coburg Farmers Market.
Paul is also slowly establishing a small orchard that will predominately be apricots which were grown historically in the area of Keilor and then after that is hoping to add some small animals.
Day's Walk Farm not only offers WWOOFing opportunities, but it is also the perfect place for an aspiring farmer who is less into exploring and more interested in farming with Paul offering 4mth Internships. Paul has a passion for nature and farming and enjoys sharing his knowledge and property with others.
A typical day for WWOOFers and the Interns starts early! Everyone heads out in pairs to start harvesting for the day. The day may also involve transplanting and planting new crops and the regular daily farm activities interspersed with shared morning teas and lunches. WWOOFers have the afternoons off to head into the city, sleep, swim in the river or read the large offering of books.
The stay at Day's Walk Farm is rustic, Paul refers to it as a level up from camping, with WWOOFers staying in a converted shed with compost and regular toilet and a bucket shower which his dad made.
As a host Paul enjoys learning the different approaches to tasks that people bring from their own cultures and countries, He also loves the great meals WWOOFers often want to share and show off their skills – which everyone enjoys!
Paul's favourite time of the day is lazing in the river with a beer, snacks floating by on a board whilst sharing ideas and stories with the crew. And when we asked Paul what is one item of clothing a WWOOFer should bring? A Good Hat!