Meet Allison and Paul WWOOF Australia Hosts for 7 years.
Banksia Park in Kangaroo Valley is the premier family holiday getaway in the Shoalhaven region of the NSW South Coast. Kangaroo Valley is ideally located between Berry on the South Coast and Bowral in the Southern highlands. You can expect to have the nature experience of a lifetime. Wombats and Goannas are our specialties; you may meet them as you sit around your campfire toasting damper and marshmallows. The Australian bush is at your doorstep!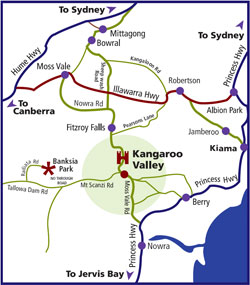 We can sign off on 2nd Year Visa https://wwoof.com.au/wwoofing-2nd-year-visa-bushfire-disaster-areas-only/
We offer premium accommodation and meals for help while we rebuild after January bushfires. Minimum stay 2 weeks, Contact Alison
SKILLS WWOOFERS CAN LEARN HERE
Organic practices & techniques, Gardening, Composting, Pruning, Soil conservation, Mulching, Using & caring for tools, Building, Preserving & processing food, Marketing produce, Bush clearing, bush fire clean up!
Reviews
We stayed around 3 weeks with Allison and Paul and it was a great WWOOFing experience (our first one). We worked around 5 hours per day with two days off. During our free time, we have had the possibility to explore the surroundings (great bushwalks, Jervis Bay, Kangaroo Valley Festival). Our jobs were miscellaneous: cutting the trees, take care of the animals, painting jobs, cleaning and open the pool & the spa, and gardening. Alison and Paul are lovely people, we shared great moments with them, especially during the diner time. Alison is a very very good cooker. Alison and Paul if you read it, we thank you again for this great experience. We fully recommend them.
Joscha
We stayed for 2 weeks at the farm and I can tell you it was very nice. Allison and Paul are a lovely couple and you have so many things to do in your free time. The working hours are very fair and the food provided is very delicious. You have your privacy living in a separate building and the two always have an ear open for you. It is totally worth it visiting the 3 (cooper the dog included)
Heidi
I stayed with Allison and Paul for 4 weeks and it was my best WWOOFing experience of all. The working conditions are more than fair and I was treated like a family member. Not to mention the beautiful surroundings where you can enjoy Bushwalks or simply relax at the pool area in our spare time. I can highly recommend WWOOFing at Banksia Park.
If you would like to meet Paul and Allison, then reach out to them through the messaging system within your WWOOF profile!
Not a member? Join here: https://wwoof.com.au/join-wwoof/ All WWOOFer Memberships are now 2 YEARS, so join today!