• Kylie Betheras, 32, and Stuart Eaves, 32, are travelling for only $7 a day
• By volunteering at organic farms, they get free accommodation and food
• They travel around Australia in a VW Kombi van and blog about their travels
• Their only expenses are 'beer and chocolate', apart from fuel and meals out
By MICHELLE CHENG FOR DAILY MAIL AUSTRALIA
PUBLISHED: 10:40 AEST, 9 June 2018 | UPDATED: 10:43 AEST, 9 June 2018
Imagine a life where your only expenses are 'beer and chocolate'.
This is reality for young couple Kylie Betheras, 32, and her partner Stuart Eaves, 32 who have travelled around the world for the past 18 months.
They have volunteered on organic farms in exchange for accommodation and food, spending an average of only $7 a day on travel, once they had paid for their flights.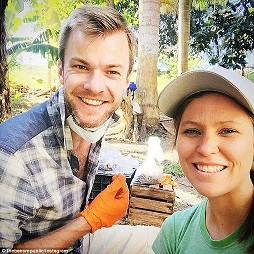 And they are not alone, with their arrangement known as as 'WWOOFING' – a concept that started in England in 1972 and stands for 'willing workers on organic farms'.
The eco-friendly travel movement sees people work on organic farms for four to six hours a day in exchange for free meals and accommodation.
Each country has its own WWOOF organisation and in Australia, it's as simple as paying $70 for a 12 month membership, creating a profile and searching for a host farm on the database. 'So what we decided to do was to go travelling for a while. We sort of made that decision quite fast and we didn't really want to spend the next year saving up for a trip,' she said.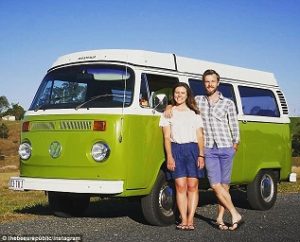 After hearing about WWOOFing from Mr Eaves' friend, the couple jetted off to Cuba to start their thrifty and environmentally friendly journey.
Their first destination was a Cuban mushroom farm, where they did a charity exchange for about two weeks.
Soon after, they went to the United States where they travelled and volunteered for three months at organic farms in Pennsylvania, Kentucky and California and spent the rest of their time as tourists.
'We wanted to have a bit of a lower budget way to travel, but by the nature of what we were doing, we were really interested in having a little bit more head space and trying to explore new passions,' Ms Betheras said.
'We were having fantastic conversations with farmers, their challenges and their needs,' she said.
Over the past 18 months, the couple has volunteered at ten organic farms across Cuba, the United States and Australia- and they've barely spent a cent!
'It's definitely like a work exchange, in the fact that you work for four to six hours a day, in exchange for your food and accommodation,' said Ms Betheras.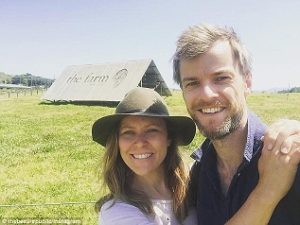 They are currently at Lighthouse Organics in Byron Bay, where they volunteer with up to ten people. There is a large kitchen, which is fully stocked with organic fruits and vegetables available at any time.
'There's a whole sort of philosophy and it's more of like a lifestyle education exchange that happens aswell,' she said.
The couple paid for their flights to Cuba, the United States and Australia, but outside of this they have lived very frugally.
Ms Betheras said that since accommodation and food are provided, the couple spends less than $200 a week, which comes to only $7 a day.
'We really don't spend a lot,' she said.
'Fuel would be $100 a month plus a couple of meals out. We'd spend less than $100 to 200 a month,' she said.
But everything else has been provided for us, so you could literally stay on the property and not spend any money,' she said.
'The only thing we've had to buy and bring onto the farm is beer and chocolate, and everything else they provide,' she said.
Ms Betheras said that WWOOFing has been a great way to make international friends.
'I've met people from all over. There's generally lots of Germans and Canadians, Japanese, Chinese,' she said.
'It's been fantastic,' she said'.
To support their lifestyle on the road, the couple runs a website and blog called The Bee's Republic, which generates income. Ms Betheras also does freelance work on the side to supplement their income.
For the future, the couple's mission is 'to get locally grown organic produce out to every single Australian' through a partnership with a farm or other business partners.
'We want to hit that kind of middle market,' she said, 'We'd really like to tap into that middle market of the everyday mum and dad, girl and boy, who have the right to eat really great, delicious food,' she said.